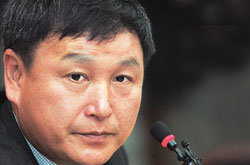 As Huh Jung-moo (49), the chief coach of the Korean national soccer team, has resigned from his position, attention is focused on the reasons for his resignation.
Huh said, "I talked to Jung Mong-joon, the president of the Korean Football Association (KFA), yesterday and made my resignation clear. Since I first took the position, I had already decided to resign after the preliminary round of the Asian qualification." He added, "I am content with the fact that I was able to help head coach Jo Bonfrere grasp the situation of Korean soccer."
Last June, as a member of the technical committee of KFA, Huh recruited Jo Bonfrere to be the head coach of the team, and took the position of chief coach after technical committee chairman Lee Hoi-taek persuaded him incessantly. However, he told his acquaintances that he was not interested in the position. Moreover, the rumor of friction between him and Jo Bonfrere, and the rumor that Huh was the one who actually managed the team, has troubled his mind.
Also, it has been said that Jo Bonfrere's arbitrary management of the team incited Huh's resignation. Bonfrere's repeated arbitrary decision of strategy and selection of players has caused a gap between Bonfrere and Huh. However, Huh said, "When deciding on the strategies, it is natural that disagreements arise between the coaches. That shouldn't be called discord."
Some guess that a head coaching position next season in the K-league might have been offered to Huh. Currently, several teams including Jeonbuk Hyundai Motors and Pohang Steelers are making preparations to change their head coaches. However, Huh said, "No head coaching position in the K-league was offered."
At this point, with the team recently advancing to the final round of Asian qualification for the 2006 World Cup Germany and in preparation of the team training in Los Angeles in January along with the final round of Asian qualification starting February, it is clear that Huh's resignation is bad news to the national team. Moreover, Bonfrere is now in China to renew his visa.
KFA plans to nominate the new chief coach as soon as Bonfrere returns.
Jong-Koo Yang yjongk@donga.com