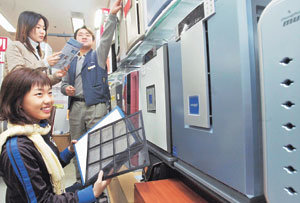 Winter, in which the time living with doors closed becomes longer, is near. The quality of air in the house worsens the longer the windows are kept close. There is even research that shows the density of indoor organic compounds in offices, residents, and restaurants in large cities during the winter is 25 times more than that in the summer. Here are some ways to manage air quality and heating necessary to live warm and healthy during the winter.
Ventilation is the Best Management –
Ventilation means completely changing the indoor air with outdoor air. It is good to change air once an hour, if possible, and at least once each in the morning and afternoon during the day. If you open the windows of the veranda, it is good to open the windows on the opposite side so that the air can be completely changed. They should be open for 10 minutes for proper ventilation.
In particular, you must ventilate if you turn on gas heaters or gas oven stoves. It is important, especially, to discharge toxic gases coming out from gas stoves by frequently opening the windows in the kitchen.
Humidity and temperature are important factors for well-being as well. The appropriate indoor temperature is from 18 degrees Celsius to 22, and that of humidity is about 55 percent. In this temperature range, it feels a bit cold, and such temperature which requires sweaters is good for your health as it curbs the multiplication of microbes.
Molds can develop if vapors form on walls when the humidification machine is excessively turned on and the heating temperature is raised.
If you move into a newly built house, you can reduce organic compounds by reducing the heating temperature.
Management of Air Quality and Humidity with Plants –
Humidity frequently falls in the winter. In this case, it helps to grow plants that discharge a lot of vapors and raises the humidity level.
Professor Sohn Ki-chul (chairman of the Korea Horticultural Treatment Association) of the department of Horticultural Science at Konkuk University recommended, "Most plants are helpful in humidity control. Yellow palms, for example, have strong transpiration mechanism, so it is appropriate to control winter humidity."
It is also a good way to grow an index plant that informs indoor relative humidity. Boston fernbrakes or adiantum are good examples. This is because these plants have the tendency to wither when the humidity falls below 40 percent.
Thus, you can regard that appropriate humidity is maintained if these plants are alive. When you spray water on them using sprayers, you can increase indoor humidity if you spray enough water in the air near them.
Since the duration of sunshine becomes shorter in winter, it is good to move the plants where the sun shines well. When the end of leaves turn yellow, it is mostly caused by the lack of water, so it is good to give them water when this happens.
In addition, professor Sohn recommended the Benjamin and rubber tree, which are highly effective in air purification, lady palms (Rhapis excelsa), which absorbs ammonia smell well, and Spathiphyllum, which dispels food smell well, as well-being plants that are good to be grown indoors.
Heating Condition should be Checked Beforehand –
It is basic that a house should be kept warm during winter. The easiest way to manage heating is to block various chinks in the windows using artificial weather strip. You can purchase various products that are easy to use if you go to shops like discount stores. The cost is about 10,000 to 20,000 won.
In the case of houses that are built more than 10 years ago, the change of heating pipes should be reviewed if it is not that warm even after turning on the heaters.
Designer Yoo Seung-min of the interior business department of LG Chem explained, "After 10 years, rust develops on pipes, and the heating efficiency starts to drop. As it takes a week to change them, you should consider changing the pipes before it gets very cold."
If the indoor temperature does not rise even though the floor is warm, it is also good to change the windows to storm windows.
Jin-Suk Huh jameshuh@donga.com