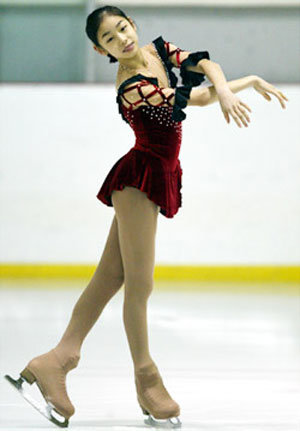 "What do I really want to do? I want to hang out with my friends. What don't I like to do? My mom would scold me if I say this. Frankly, I hate skating. It's so tiresome. I'm sick of it."
Kim Yeon-a (Dojang Middle school) is a frail 14-year-old seventh-grade student who stands 1m54cm tall and weighs 37kg. Girls her age are excited by singer Lee Hyo-lee and gossip about good-looking TV talents that appear in sitcoms.
However, Kim Yeon-a, a figure skater representing Korea, has to stay on the ice all day long. She trains with other national athletes at the Tae-reung Sports Complex in the morning and spends her evenings on an individual training program with coach Kim Se-il at the Gwa-cheon Skating Center.
Her daily schedule consists of the repetitions of training. She couldn't go to school even if her school started after vacation on February 9. The figure skating season lasts from September to March. She can't take school lessons for this duration. Consequently, it is obvious that the young Kim is tired of skating.
But she has a reason to control her desire to be free and keep on skating. She is the youngest national figure skater, and she also has potential which can be acknowledged on the world stage.
In the women's senior group of the 58th figure skating championship on February 5, Kim won the championship with a short program score of 8.56, a free style score of 8.56, and a total score of 1.5. She is evaluated as the best skater in 100 years of Korean figure skating.
She performed five hard degree triples (three revolutions) first among Korean female skaters, and she is currently challenging for a quadruple (four revolutions). Quadruples, which involves jumping and making four revolutions in the air, became a topic when Japanese Ando Miki did it first as a female skater in 2002.
If she performed a quadruple freely, it would not be just a dream for her to skate next to Michelle Kwan, who is Chinese-American and who has conquered women's figure skating.
Kim began her skating career when she was 7 years old. She was introduced to skating after she learned it from her mother as a hobby, and got the focus when she won a gold medal in the elementary group of the Winter Sports Festival in second grade of the Kunpo Shinhung Elementary School. She became the "future of Korean figure skating" when she won back-to-back championships in the under-13s in 2002's Slovenia Triglav and 2003's Croatia Golden Bear.
Kim Hye-kyoung, an international executive of the Skating Federation, praises her, saying, "Yeon-a could place in high order even though she joins in an international championship right now. Her slender and long-legged figure stands in comparison with western skaters." Lee In-sook, a figure skating executive of Skating Federation, commented, "Yeon-a's jumping skill is at the highest level in the world. She will be able to win medals if she complements her program and expressive skill."
Kim Yeon-a, not being able to participate in junior international championships because of her young age, will finally appear at the Junior Grand Prix Series in August. The day when Korea is an underdeveloped country of figure skating no more is coming soon.
jaeyuna@donga.com