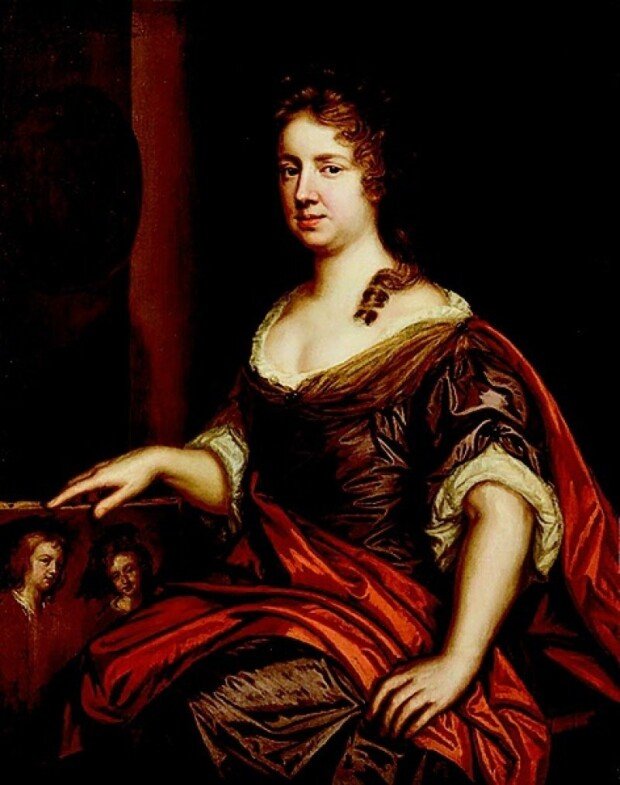 Mary Beale was the British version of Italian female painter Artemisia Gentileschi of the 17th century. Beale had not received formal education in art and did not belong to a guild but became Britain's first professional female painter. How was this possible?
Beale was born in a rectory of Suffolk in March 1633. Her father was a rector of the Anglican Church and amateur painter. She was taught to paint at an early age and married Charles Beale, a clothes merchant and also amateur painter. Her husband thought highly of her talent. When Mary became a professional painter, he gave up his work and became Mary's studio manager. He kept detailed records of how Mary painted, what transactions were made, who visited the studio, and what compliments were made. Mary was also an author. She wrote Observations, an instruction on painting apricots with oils. Though the book was not published, it is one of the first books written in English on oil painting.
In 1666, she painted a self-portrait (photo), which showed her identity as the family provider. Painted as a pair with her husband's self-portrait, this painting seemingly aims to show the family as an integrated whole. A palette is hung on the wall, and in her right hand, she is holding a canvas that shows unfinished portraits of her two songs.
Until then, she painted portraits of her family or friends for practice or as gifts. Since 1670, she painted to earn money and carefully chose her models. She created portraits of the clergy and the noble to gain a good reputation as a painter. She earned money and donated 10% of her earnings to charity.
Though Mary Beale lived when it was difficult for women to receive formal education, she became a professional painter thanks to her talent and artistic environment. She was successful enough to support her family through her paintings after marriage. She was a great painter, as achievements are not easy even today in the 21st century.