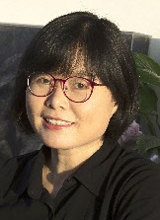 "Anybody takes pictures every day and has thousands of pictures saved on their smartphones. That's how so many pictures end up online. I wanted to show that there are actually rooms with pictures hung on the wall," said curator Choi Yeon-ha who showcases pictures she owns in Gallery ryugaheon in Jongno, Seoul. Twenty-seven pictures collected by the photo exhibition planner and critic over 20-plus years from her experience of exhibition planning are showcased in an exhibition called "Room with pictures."
From the piece she bought 20 years later after she saw it for the first time in an exhibition in her 20s to a picture by Hwang Gyu-tae who boldly used the manipulation technique, which was avoided in South Korea in the 1960s and a picture of a guardian tree of a town about to sprout, she added detailed explanation as to how she ended up owning each piece.
"Pictures are the records of lights touched something alive," Choi said on the appeal of owning photographic pieces. "When a picture is printed on a good piece of paper, it feels like the light at the time is shining again," she added. "I'd like to create discourse on the joy of viewing pictures and the meaning of collections through this exhibition." A curator talk will be held on Saturday by Choi, Park Mi-kyeong, the director of Gallery ryugaheon, and Lee Eun-joo, the curator of the National Museum of Modern and Contemporary Art. The exhibition will be held until Sunday and admission is free.
Min Kim kimmin@donga.com