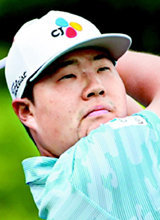 Im Sung-jae, aged 25, has his sights set on becoming the ultimate victor of the upcoming PGA Tour Honda Classic. This year's tournament will take place over four days, beginning on the 23rd at the renowned PGA National Champion Course in Palm Beach Gardens, Florida. Debuting on the PGA Tour during the 2018-2019 season, Im quickly made a name for himself by earning the title Rookie of the Year. However, at the 50th tournament of his tour, the 2020 Honda Classic, he first emerged as a top contender. Despite this impressive feat, he has yet to secure a championship title, despite recording two career wins at the Shriners Children's Open in 2021.
Im is making a bold bid for his third championship win at the Honda Classic and has catapulted to the summit of the power rankings, which forecast the likely tournament victor. The PGA Tour website states, "Im Sung-jae won this tournament in 2020 and tied for 8th in 2021. He has no weaknesses, and all skills are balanced." The golfer has been tied for 4th at the Farmers Insurance Open in January and 6th at the WM Phoenix Open in February.
For 42 years, Japanese automaker Honda has sponsored the highly anticipated Honda Classic, but it will not renew its sponsorship at the end of this year, and the PGA Tour will bid farewell to the name Honda Classic. The decision was primarily due to the prize money and schedule. With a total prize money of 8.4 million dollars (approximately 10.9 billion won), the Honda Classic pales compared to special tournaments with a total prize money exceeding 20 million dollars. Moreover, it follows immediately after the WM Phoenix Open and the Genesis Invitational and is followed by other special competitions, such as the Arnold Palmer Invitational and The Players Championship in March. As a result, top players often choose to skip the Honda Classic and take a break. Only eight players from the top 50 in the world rankings will participate this year, with no top 10 players in sight.
Other than Im, Ahn Byeong-hun (32), Kang Seong-hun (36), Noh Seung-yeol (32), and Kim Seong-hyoen (25) put their names on the players' list as Korean.
Dong-Wook Kim creating@donga.com