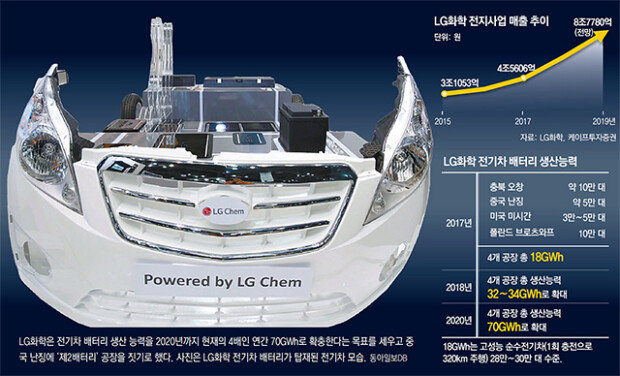 LG Chem is building a second battery factory, which can produce batteries for 530,000 high performance pure electric cars (electric cars that can drive 320 kilometers on a single charge) in Nanjing, China. The construction will begin in October and commercial production will begin in October next year. It is planning to secure a production ability of 32GWh per year by investing two trillion won by 2023.
According to the Chinese local media Wednesday, LG Chem Vice President Kim Jong-hyun and Chinese local leadership Tuesday attended at a signing ceremony in Nanjing, China and another signing ceremony to establish the second electric car battery factory at the development zone of Binjiang District. The purpose of LG Chem's decision to expand its factories is for a timely supply of electric car batteries for global vehicle entities, of which LG Chem entered into a contract.
The Chinese government's decision to abolish its subsidiary policy to protect domestic battery manufacturing companies by 2020 is an opportunity for LG Chem. Within China, government subsidy consists of half of the sales price of electric cars within China, which means that Korean battery companies do not even have a chance of competing from the beginning. After 2020, however, Korean companies such as LG Chem will be able to obtain an opportunity to complete with Chinese entities under the same conditions.
"Up until now, we have not signed any contract with Chinese vehicle companies for electric car battery supply," said an official from LG Chem. "We are currently talking with Chinese entities to prepare for after 2020, when government subsidy is abolished."
The energy density of NCM batteries, which are produced by Korean companies, are twice as higher than LFP that are produced by Chinese entities. Therefore, the industry anticipates that Korean companies will be able to enjoy prominent position in competition for the following three to five years.
Jae-Hee Kim jetti@donga.com