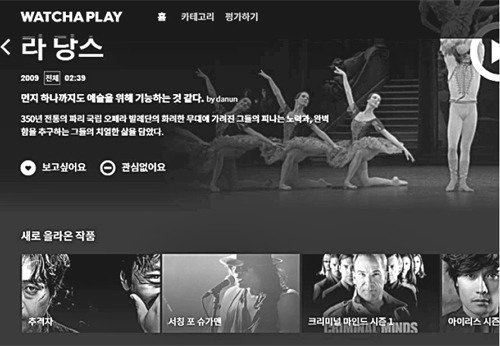 "Watcha Play" is a new online movie streaming service launched by "Watcha," an app known for movie rating and recommendations. It costs 4,900 won (3.99 U.S. dollars) per month, half the cost of Netflix (7.99 to 11.99 dollars per month). It became known as a Korean version of Netflix.
Like Netflix, it is easy to sign up and log in. It offers a video streaming without installing an application. As it does not offer mobile services yet, it is impossible to keep watching from where you leave off at home while you are on the move. The image quality of videos that it offers is not as good as that of Netflix, which provides ultra-high definition videos depending on fees.
Thanks to its more diversity in films than Netflix, Watcha Play has old movies in the 1970s and 80s to recent movies such as "The Pirates." In terms of drams, however, it offered only old drama series such as "Grey's Anatomy," which is the weakness of Watcha Play.
With its strength in dramas, Netflix encourages people to watch several episodes. For example, if one likes "Orange Is the New Black," he can watch a total of 39 episodes from season 1 through season 3. Given that it costs 1,200 won (0.98 dollar) to 1,500 won (1.22 dollar) per episode of Korean dramas in video demand services, it is worth paying the fee to watch season 1 alone. In addition, it is exclusive contents that other Korean websites do not offer. Since Watcha Play has movies mostly, people have no reason to watch many movies at a time. Sometimes, people cannot find movies that they want at the app. Although 4,900 won (3.99 dollar) per month is cheap, there is no reason to pay for it if one wants to watch just one or two movies a month.
The only strength of Watcha Play is the recommendation functionality, which it advertised upon launching. It recommends contents to its members, who are asked to give ratings on movies that they have watched in the sign-up stage. Its recommendations to me were "Once Upon A Time in America," "Big Fish," and "Pan's Labyrinth." It is not so sure how the recommendation was made, but unfortunately, I have watched them already while I personally do not like them, either.
이새샘기자 iamsam@donga.com