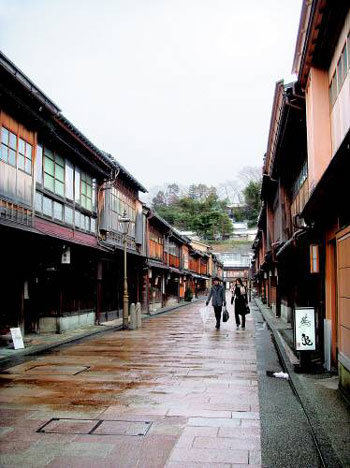 Alongside the East Sea sits a small Japanese town in the middle of Honshu called Kanazawa. Despite its small population of 450,000, its residents will tell you with pride that the town is famous not only in Japan, but internationally. Kanazawa was once a bustling mecca for four centuries, but after the Meiji era, it was reduced to common town status. The people in Kanazawa have found strength in its peace.
Traditional Businesses-
Kanazawa's motto is "preserve culture." Because industrialization left Kanazawa untouched, so did the bombs of World War 2. As soon as the war was over, it became the first city in Japan to establish cultural preservation laws. Higashichaya Road, where geishas once beckoned, was made over into a street selling Japanese traditional tea and domestic products. Nagamachi Bukeyashiki, where samurais once marched, was renovated as well.
Preservation in Kanazawa isn't just about restoring artifacts, however. Unlike other cities that thirst for foreign capital, Kanazawa has chosen to depend on itself. Sustaining its own manufacturing, distribution, and service-oriented traditional businesses has allowed the town to keep all of its economic proceeds.
Traditional Japanese dyed cloth, gold foil, and other specialty product industries have been revitalized there. To pass on its industrial know-how, the city has founded an arts institution and training high school for traditional technology. In the classrooms, traditional craftsmen are being trained in an attempt to beat Chinese mass production at its own game.
Everyday Culture-
Kanazawa is also trying make culture an everyday experience. Instead of large cultural facilities, the city created a small orchestra and various policies for civic arts to try and allow culture to seep into everyday life. Its community civic arts center that opened in 1996 is the fruit of residential efforts to live in an atmosphere of culture everyday.
Now Kanazawa is setting its sights on exporting its formula for enjoying culture abroad. The "Kanazawa World City Plan" announced in 1995 is its blueprint.
For this plan, the city is working on making Kanazawa into a convention city. In 2005, 324 conventions both large and small took place there, drawing 80,000 visitors from around the world. A Kanazawa official explained the importance of this to the local economy, saying, "The convention business contributes to promoting the city."
When international conventions take place in Kanazawa, the city hands out 12,000 yen to each convention-goer. But Kanazawa officials don't worry about the cost. "Each convention participant spends an average of 57,000 yen, so the financial revenue from conventions resulted in an inflow of 10 billion yen last year," the official said.
The city has not been negligent in producing new culture for the next generation as well. A clean, transparent "21st Century Museum" that was built in front of the city hall park in October 2004 attracted 1,570,000 visitors, about three times the population of Kanazawa in its first year alone. A beautiful traditional garden is attached to the museum, and is connected with a commercial hub where visitors can shop.
What is development? And how is it related to growth? Kanazawa answers these questions by slowing down and keeping a certain pride in its quality of life, which leads to true local development and globalization, instead of the abstract notion that much of the world still defines globalization as.