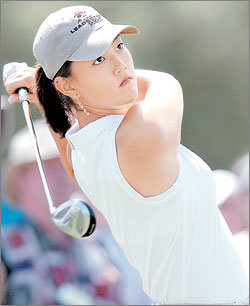 The catchphrase of this year's U.S. Women's Open (from July 1 to 4), the second major tournament of the season, is "a child." The U.S. Golf Association (USGA) will let children under 16 enter free in order to acquire the clients of the future.
"Genius girl" Michelle Wie (Wie Seong-mi, 14-year-old) will join the U.S. Open as a special guest player. In the 58-year history of the US Women's Open, it is the first time that an amateur can advance to the event, receiving preferential treatment of being exempt off preliminaries. The USGA has given three times the special favor for the U.S. Open and the U.S. Senior Open, but has yet never given it for the U.S Women's Open.
Wie is an idol to American kids who are dreaming of golf players. Consequently, it is no wonder that the USGA, selecting "a child," as its catchphrase, gave an eye to "Nationwide Star" Michelle Wie.
However, Wie is not just a player for entertaining. She is a strong candidate for winning a championship.
First of all, Wie took part in the tournament (39th place) last year through qualifying in preliminaries to prove her ability. She got the best result (cut off by one stroke) out of past gender competitions in the Sony Open of the PGA tour this year. And she appeared in three events in the LPGA tour and marked 4th place in her first major tournament, the Nabisco Championship, tied for 12th place in the Michelob Ultra Open, and tied for 19th place in the Safeway International.
An executive director of USGA, David Pay said on May 25, "This year's high 35 rankers in prize money of the U.S. LPGA tour are exempted from the preliminaries of the U.S. Women's Open, and Wie places 28th when her results convert to prize money."
With the exemption from U.S. Women's Open preliminaries, Wie will also be able to participate in the U.S. Amateur Public Linx preliminaries, which decide who advances to the Masters. This is because both preliminaries will be held on the same period.
The father of Michelle, Wie Byoung-wook (45-year-old, professor at Hawaii University) mentioned, "The exemption from a preliminary gave her a perfect schedule. It is rather tough for a young golfer, but Michelle is very happy to be able to challenge for her dream."
Young-Sik Ahn ysahn@donga.com