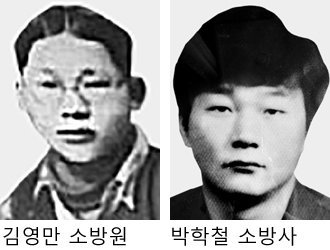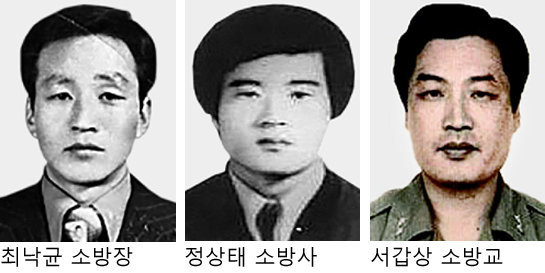 "I am grateful that my father's name and the sacrifice he made are highly appreciated at last," said Park So-jeong, a daughter of late firefighter Park Hak-cheol who died at the age of 26 in 1983 while on duty, with the remains of her father to be buried in Daejeon National Cemetery in 40 years on Thursday. On his way to the scene of a fire in a house, Buk-gu, Ulsan, he died in a car crash. "Although it is late, I am relieved that he can stay in the national cemetery with his other colleagues," the daughter said. "My father will be laid to rest."
The Act on the Establishment and Management of National Cemeteries, established in 2005, allows only on-duty firefighters who died later than Sep. 1, 1994 to be buried in national cemeteries. Thus, the remains of those sacrificed before then just like Firefighter Park were left in burial grounds of other types.
In response to the criticism that heroic firefighters who lost their lives deserve better treatment, the National Assembly revised the law this March to ensure that all on-duty firefighters are buried in national cemeteries regardless of the date of their death. Accordingly, the National Fire Agency will hold a joint burial ceremony in Daejeon National Cemetery on Thursday afternoon for five fire officers who died on duty.
The ceremony is dedicated to the late fireman Kim Young-man, late senior firefighter Seo Gap-sang, late firefighter Park Hak-cheol, late firefighter Jung Sang-tae, and late fire sergeant Choi Nak-gyun.
Fireman Kim is the first fire responder who died on duty in South Korea. In 1945, he worked at Jungbu Fire Station in Busan at age 20. While trying to extinguish a fire in army storage in Busanjin-gu, Busan, in October, he was killed by an explosion. Upon watching black smoke fuming through the window, the 20-year-old fireman, who was officially off duty, stormed out of the house to put out the fire even before an emergency call was issued. Due to a military explosive blast, he lost his life while fighting against the blaze on the scene.
"It is a great relief, albeit belated, that we can honor the sacrifices of seniors who died for the sake of the safety of the country and citizens," Commissioner General of the National Fire Agency Nam Hwa-yeong said. He promised to do his best to continuously give treatment and support to those who die on duty so that their bereaved families and colleagues can have a strong sense of pride.
sojee@donga.com