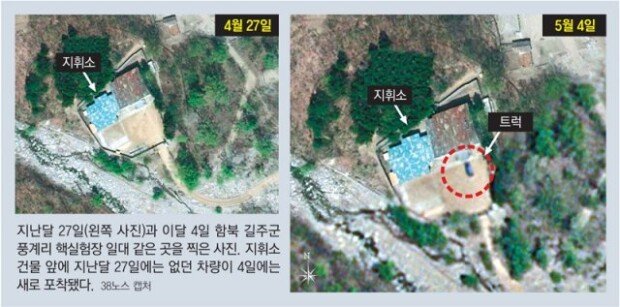 With North Korea reported to be practically in the final stages of developing smaller nuclear warheads, further signs of nuclear testing have been witnessed at the Punggye-ri nuclear test site in Kilju County, North Hamgyong Province, North Korea. U.S. military and intelligence authorities were quoted by U.S. news media outlets as saying that Pyongyang is expected to conduct the 7th nuclear test this month. South Korean military authorities also projected that the next North Korean nuclear testing will highly likely occur between the Yoon Suk-yeol administration's inauguration next Tuesday and U.S. President Joe Biden's visit to the nation on May 20.
According to reports by The Dong-A Ilbo on Friday, the South Korean government confirmed that repair works were underway as of Thursday around the No. 3 tunnel to the south of the nuclear test site in Punggye-ri. Finishing works continued on a new facility outside the entrance while movements of workers and equipment were witnessed around the tunnel.
North Korea monitoring website 38 North wrote that freight trucks were found to be parked in front of a control facility around the No. 3 tunnel based on satellite images taken on Wednesday. It was the first time that any vehicle was seen around the control facility following refurbishing works on the No. 3 tunnel. This analysis implies that Pyongyang may recover the control facility as a security building to connect tunnels to main external roads and bridges.
Three officials in the Biden administration were quoted by CNN on Thursday (local time) as saying that U.S. military and intelligence authorities conclude that North Korea will test nuclear weapons at the Punggye-ri nuclear test site late this month. Washington has been closely watching the test site to see if Pyongyang has installed nuclear bombs for test purposes.
Regarding Pyongyang's ballistic missile launches, asked if any change can be made to President Biden's tour to Asia, White House spokesperson Jen Psaki answered that the U.S. government always assess security, while adding that the issue is not a concern in terms of the president's upcoming travel.
Some military experts projected that North Korea may check for a series of smaller nuclear warheads dubbed "game changers" during a possible next test.
Jin-Woo Shin niceshin@donga.com