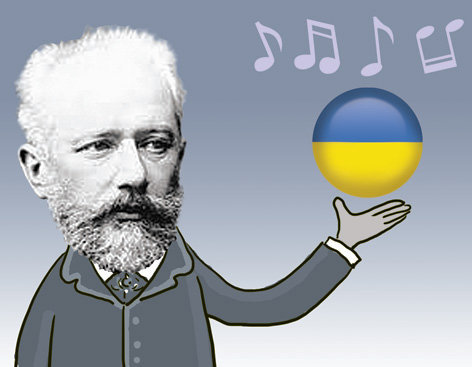 The closing ceremony of the 2022 Beijing Winter Olympics featured the introductory chords of Pyotr Ilyich Tchaikovsky's Piano Concerto No. 1. Given that it is the tradition at the Olympic that the marathon medals (during the summer) or 50 kilometer mass start medals (during the winter) are given at the closing ceremony, the Russian national anthem should have been played, for it was a Russian athlete who won gold in the 50-kilometer mass start final. Instead, a Russia-born composer's concerto was played, for Russia being banned from the Olympics as a result of the state-led doping scandals.
A beautiful tune of Tchaikovsky's Piano Concerto No. 1 is profoundly related to Ukraine, for the theme and melody of the first and second movement of the concerto are derived from the Ukrainian folk song. Tchaikovsky reminisced a melodious ballad sung by a blind musician when composing this concerto. He was captivated by the sweet-sounding and nostalgic melody of the Ukrainian folk music. In fact, it was not just music that attracted the Russian composer; he was impressed by Ukraine in every aspect. Tchaikovsky was born in Votkinsk, Russia, but he considered his grandfather's homeland, Ukraine, as his mother country as well. Furthermore, his beloved sister who was two years younger than him lived in Ukraine, and for that reason, he spent a few months every year there.
"I found the peace of mind, which I could find neither in Moscow nor in St. Petersburg, in Ukraine." Ukraine was where Tchaikovsky could find peace and ease of mind that he needed to create music. Piano Concerto No. 1 and Symphony No. 2 are among some 30 works Tchaikovsky composed from the inspiration of Ukraine. Ukraine set the composer free of the psychological deadlock he had been stuck in. Then beautiful and splendid music came out.
Once a land of endless inspiration for the great composer, Ukraine is now marred by war. Kyiv, where his grandfather used to live, has been trampled on by the Russian army. Russia chose Tchaikovsky's Piano Concerto No. 1 and played it for the world to listen, but it fell short of understanding the composer's love for Ukraine that it should have taken heed to. May Tchaikovsky's music return to peace.