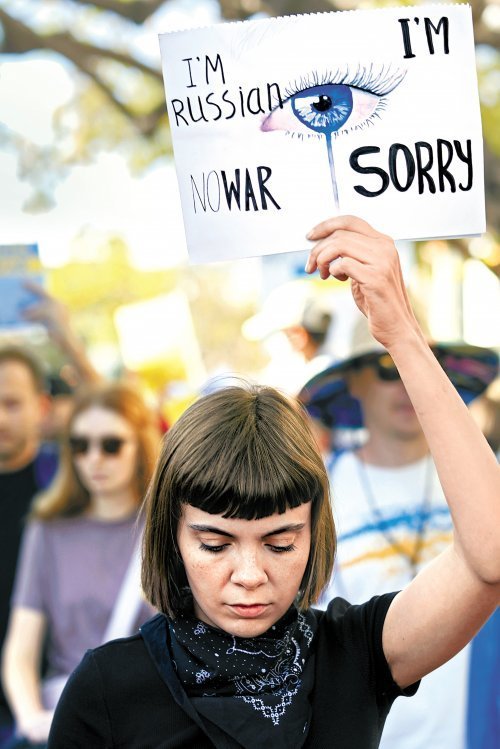 Suspicions have been raised that Russia used vacuum bombs and cluster bombs, weapons of mass destruction, on civilians. A vacuum bomb is a type of explosive that generates a high-temperature and high-pressure explosion, causing severe injuries to the respiratory system and thereby killing people. A cluster bomb, which contains smaller explosive submunitions, devastates the ground after firing from the air. These weapons are banned in most nations according to the Geneva Convention. The U.S. and the West raised concerns that Russia might indiscriminately use weapons of mass destruction as the Russian advance into Ukraine has slowed because of strong resistance by the Ukrainian soldiers.
Ukraine's Ambassador to the U.S. Oksana Markarova claimed on Monday that the Russian army used vacuum bombs against residential areas and that Russia is causing a huge tragedy in Ukraine. The Ukrainian government also announced that the Russian bombing on residential building on Khariv, the second biggest city in Ukraine, killed at least 11 people, including three children. The Washington Post cited Human Rights Watch, an international non-governmental organization, and reported, "The bombing in Kharkiv killed dozens of civilians and cluster bombs seem to have been used." Ukrainian President Volodymyr Zelenskyy criticized the Russian military's attack as a "war crime." The United Nations said at least 406 civilians have been reported hurt or killed in Ukraine for the past five days since the Russian invasion.
CNN reported that satellite images show more than 64-kilometer Russian military convoy that reached the outskirts of Kyiv. A senior defense ministry official said that the Russian military will attempt to encircle Kyiv within a few days.
As the attacks continue, more countries are joining sanctions on Russia. At least 33 countries have joined economic sanctions with a freeze on Russian assets, including the U.S., the U.K., Japan, the EU, and even neutral Switzerland. Criticism of the Russian invasion of Ukraine is mounting; even in China, a friendly country to Russia, graffiti that criticizes the Russian invasion of Ukraine was found out at the Russian Culture Center in Beijing.
The first round of the ceasefire talks ended without results, but the representatives of Ukraine and Russia said that the two sides found certain points on which common positions could be foreseen, which will be discussed in the second talk.
weappon@donga.com