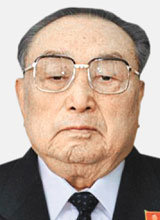 Kim Yong Ju, North Korea's founder Kim Il Sung's youngest brother, died at the age of 101, reported North Korean state-run newspaper Rodong Sinmun on Wednesday. Kim Yong Ju was once the country's second most powerful figure, and he was a signatory to the July 4th South-North Korea Joint Statement in 1972, which was the first agreement concluded between the two Koreas.
Rodong Sinmun reported that Kim Jong Un, the supreme leader of North Korea, expressed his deep condolences over the death and sent a condolence wreath in token of deep respect to his great-uncle, who received the Kim Il Sung medal and Kim Jong Il medal, as well as "the hero of the Democratic Republic of Korea."
Kim Yong Ju, the youngest brother of the late Kim Il Sung, held several top posts, including director of the organization and guidance department, and served important posts of the ruling Workers' Party, such as Politburo member and honorary vice president of North Korea's parliament, working as the second-in-command during Kim Il Sung's rule. He signed the July 4th South-North Korea Joint Statement with his South Korean counterpart Lee Hu-rak and served as the North Korean chief of the South-North Coordinating Committee.
Kim Yong Ju, fell out of favour when his nephew, Kim Jong Un, rose to power. Resigning from all posts, Kim left Pyongyang and was practically banished to Jakang Province. His last public appearance was in 2015, when state TV showed him bowing before the portraits of Kim Il Sung and Kim Jong Il after casting a ballot during local elections.
Ji-Sun Choi aurinko@donga.com