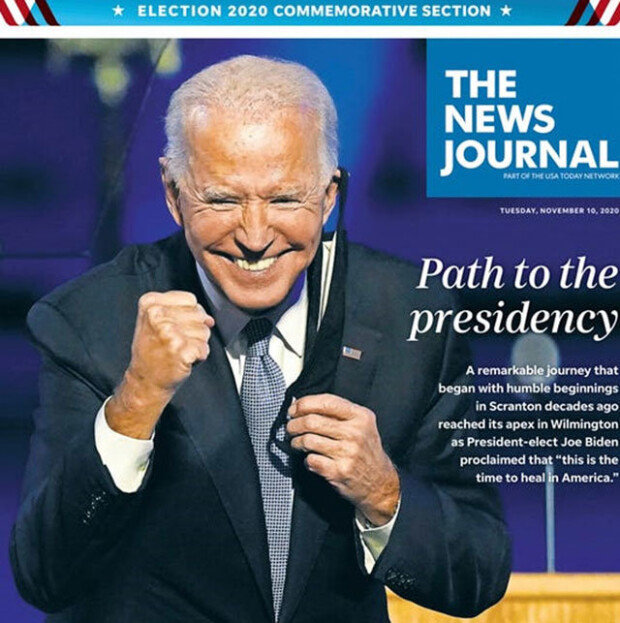 Powerful figures, companies, and organizations with legislative interests are recently scrambling to run print ads in Delaware's The News Journal, reported Politico on Tuesday. Delaware is called "a second home" of U.S. President Joe Biden. When it became known that President Biden, who has affection for Delaware, is an ardent reader of the newspaper, ads started to pour in.
The Politico wrote that a local newspaper in Delaware has become "the go-to way" to influence President Biden. Established in 1866, The News Journal is a small-scale local newspaper with dozens of reporters. According to Politico, 17 ads have been run in the newspaper between September and November by powerful groups with legislative interests before the government. The messages of those ads range from calling on the U.S. government to abolish nuclear weapons, to expressing gratitude for preserving local cultural heritage sites, to demanding that the administration take action on energy policy, to urging the president to change the head of Food and Drug Administration (FDA).
President Biden was born in Scranton, Pennsylvania, but he moved to Wilmington, Delaware at the age of 10 and has been living there for over 60 years. He has such deep affection for his home town that he spends weekends at his Delaware home even after taking office unless there are special circumstances. This explains Biden's affection for the local newspaper as well.
"Biden was known to read The News Journal during his tenure as vice president, and regularly fielded questions from the paper's reporters on the 2020 campaign trail," Politico reported. It also wrote that the newspaper is being read in the White House and delivered to Biden's Wilmington home.
Eun-Taek Lee nabi@donga.com