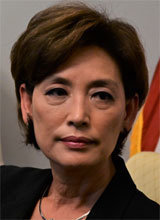 "A one-sided announcement of the end of the Korean War (without North Korea's commitment to denuclearization) will bring catastrophic results to the security of the Indo-Pacific region," Korean-American Republican representative Young Kim said in an interview with The Dong-A Ilbo on Tuesday regarding the South Korean government's efforts for the announcement of the end of the Korean War, adding that it will be a serious obstacle to the U.S.'s capabilities to achieve important security goals in the region. "(A one-sided announcement) will weaken the war deterrence power of the Korea-U.S. alliance and put the lives of tens of millions of Americans, South Koreans, and Japanese at risk," she said.
Thirty-five Republican representatives, including Kim, sent a joint letter in opposition to a one-sided announcement of the end of the war to National Security Advisor Jake Sullivan, etc. on December 7 (local time). This is the first time multiple U.S. Congress members took collective action to oppose the announcement. Kim led the writing o the joint letter. She was voted as a Republican candidate at the federal House of Representatives election in the 39th district of California, which was held along with the U.S. presidential election last year. "We took action as we have heard serious concerns from not only my constituency but also the Korean-American community and fellow representatives," she said on the background of delivering the letter.
South Korean President Moon Jae-in is trying to use the end of the war announcement as an incentive to resume talks with the North, regardless of the country's commitment to denuclearization, as the announcement is a political one that is not legally bounding. Kim sees it differently. "Even if the announcement is practically political in nature, it will give North Korea and China justification to ask for the withdrawal of the U.S. Forces in Korea and the permanent suspension of ROK-U.S. joint drills," she said, adding that it will also affect the standing of the United Nations Command in South Korea.
"We should deal with North Korea that we are facing, not the one we are hoping for," she also said. "The announcement of the end of hostilities will come through dialogues after the North removes its nuclear weapons and shows verifiable progress on the compliance of sanctions and human rights improvement."
While the draft for the announcement of the end of the war is in the final stage in coordination between South Korea and the U.S., Kim said the Congress is highly concerned about the quick progress of discussions on the announcement without consultation with the Congress or communities. According to Kim, a reply to the joint letter sent to the White House hasn't been received yet.
Jin-Woo Shin niceshin@donga.com