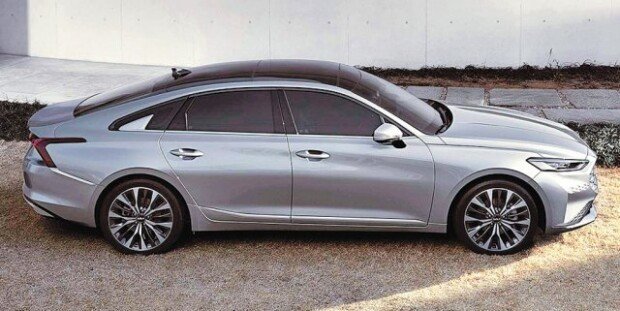 Kia.'s new sedan K8 (picture), which is set to be launched in early April, enjoyed enthusiastic response from consumers on the first day of pre-orders.
According to the South Korean carmaker on Wednesday, pre-orders for the K8 hit 18,015 on the first day, breaking the first day record of 7,003 units by the third-generation K5 in November 2019. Considering that 41,048 units of the K7 sold last year, the K8's pre-order has reached 44 percent of the annual sales of the K7 just in one day.
The K8 is the first Kia sedan to feature the new logo unveiled in January. The new sedan has grabbed the attention of consumers with its luxurious interior and exterior design and powerful performance. It is also equipped with advanced driver assistance system, premium sound system jointly worked with Meridian, and panoramic curved display. The prices of the K8 in 2.5-liter and 3.5-liter gasoline engine versions range at 32.79 million - 38.68 million won and at 36.18 million - 45.26 million won, respectively with 3.5% individual consumption tax applied. The price of a 3.5-liter liquefied petroleum injection (LPI) option starts at 32.2 million won and goes up to 36.59 million won.
Hyung-Seok Seo skytree08@donga.com