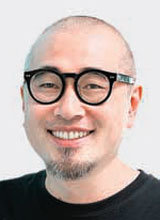 Kim Bong-jin (picture), Woowa Brothers founder and food deliver app Baedal Minjok (Baemin) CEO, announced on his Facebook page on Friday that he will donate 20 billion won out of his own pocket to support living expenses and tuition fees for those in food service business. "I'll raise 10 billion won to help restaurant owners, who are finding it hard to make ends meet due to accidents or disease treatment, pay medical bills or living expenses.
The support will be provided to restaurant owners regardless of their membership on the delivery app and the fund will be raised in collaboration with the Korea Disaster Relief Association over the course of five years.
Kim will also set up a fund of 10 billion won for five years to help restaurant owners pay tuition fees of their children. The fund will be operated jointly with Community Chest of Korea.
Gun-Huk Lee gun@donga.com