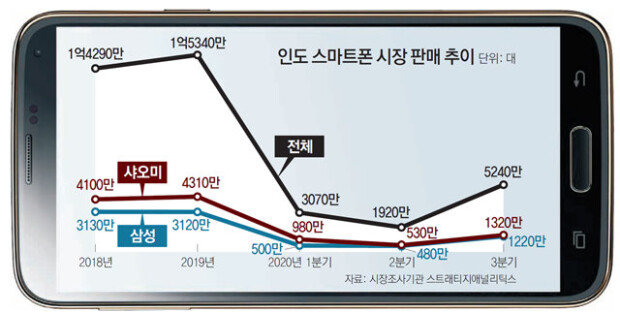 India, which is the world's second-largest smartphone market after China, is recovering quickly from the impact of COVID-19. Over 70 percent of India's smartphone market has been dominated by Chinese companies, but Samsung Electronics and LG Electronics are expanding their presence with aggressive marketing.
According to market research institution Strategy Analytics on Monday, a total of 52.4 million smartphones were sold during the third quarter this year, which is 2.7 times more than the second quarter's sales figure. "Due to pent-up demand, there was a huge jump in sales in the third quarter," said a South Korean smartphone industry source. "It seems to have recovered close to the pre-COVID-19 growth trend of the Indian market." Robust growth is expected to continue through the fourth quarter as manufacturers are engaging in aggressive marketing for Diwali, the biggest holiday of the country, and expanding online sales.
India's smartphone market is the second largest following China with 150 million units per year. In particular, it is considered to have high future growth potential as the country's smartphone penetration rate is low with 40 percent of customers still using feature phones. As of the first half of this year, Chinese smartphone manufacturers, namely, Xiaomi, Vivo, and Oppo, accounted for 70 percent of the Indian smartphone market.
In 2018 when Samsung Electronics was overtaken by Xiaomi for the No. 1 position in the Indian smartphone market, the difference between the two companies' shipments was 9.7 million units, which grew to 11.9 million last year. During the first quarter of this year, Xiaomi sold 9.8 million units while Samsung Electronics only sold five million.
However, South Korean companies started to reemerge in the second quarter. While the market was reduced to half due to COVID-19, Samsung Electronics closed its sales gap with Xiaomi to 0.5 million units. Even in the third quarter when the market has recovered, the gap was only around one million units as the South Korean company sold 12.2 million while the Chinese sold 13.2 million. Samsung Electronics' strategy to expand mid- to low-tier products was effective and the anti-China sentiment grew in India due to the conflicts regarding the China-India border.
While not ranked Top 5 in the Indian smartphone market, LG Electronics' smartphone sales in May and June this year were about 10 times higher than in March and April. Last year, the company launched "W10" tailored for the Indian market based on its strategy to specialize in and prioritize India to target the market. The model with an improved camera and an affordable price tag of around 100,000 won was popular among Indian consumers for its value for money.
will@donga.com