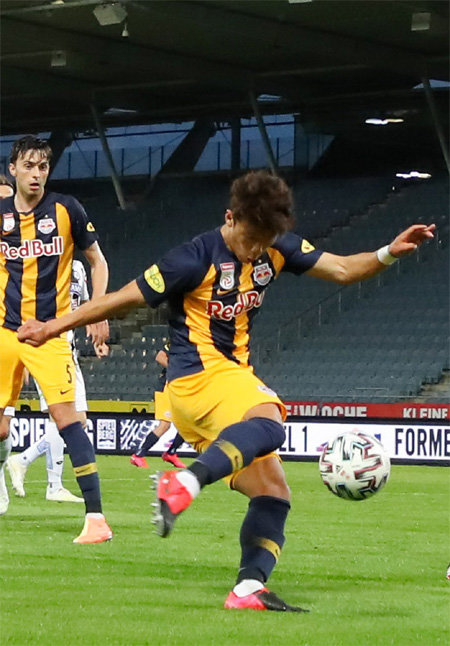 Hwang Hee-chan, a South Korean striker of FC Red Bull Salzburg of the Austrian Bundesliga, found one goal and one assist in an away match against SK Sturm Graz on Thursday, contributing to the team's breezy 5-1 win. The victory allowed Salzburg to seal their top position of the league with 33 points (17-6-2).
The last time Hwang found the net in the Austrian Bundesliga was the Rheindorf Altach match on March 3, his last appearance before the league was suspended owing to the COVID-19 outbreak. This season, the South Korean is boasting a remarkable record of 14 goals and 16 assists in regular league, cup tournaments, and the UCL.
With the scouters from Arsenal, Wolverhampton, and Everton watching him, Hwang boasted great versatility on the top of the pitch on the day. In the 43rd minute of the first half, the South Korean provided a clean assist for Szoboszlai Dominik, adding further momentum to Salzburg's 3-1 lead.
Football critics used to say Hwang lacks precision while recognizing his dribbling skills, but Hwang has been proving that he is perceptive of the movements of his colleagues and certainly knows how to make use of them.
Yun-Cheol Jeong trigger@donga.com