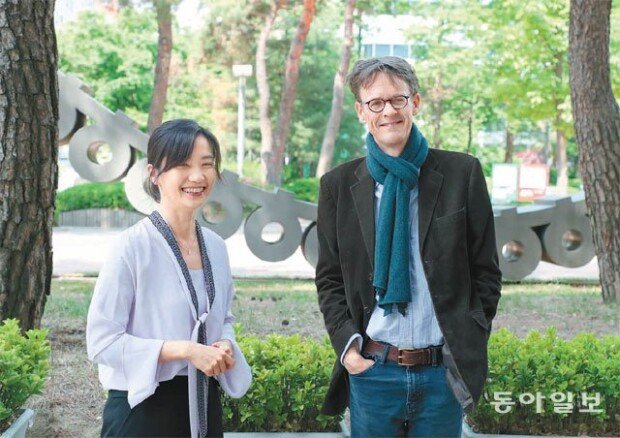 A complete performance of Franz Schubert's three most popular song collections – "Winterreise," "Die Schone Mullerin" and "Schwanengesang." This is the massive task given to Ian Bostridge, a 55-year-old English tenor, will carry out at IBK Chamber Hall of Seoul Arts Center on May 10, May 12, and May14.
Hailed as one of the greatest interpreter of German classic songs, Bostridge is a historian who earned a doctorate at Oxford and his book "Schubert's Winter Journey" has been translated into 13 different languages. The Dong-A Ilbo arranged an interview between South Korean music columnist Noh Seung-rim, a doctor of cultural policy studies at the University of Warwick, and Ian Bostridge to talk about Schubert's three song collections.
- In your previous interview, you said Winterreise isn't necessarily melancholy. I wonder if there are aspects that might go unnoticed in the rest two collections Die Schone Mullerin or Schwanengesang.

"Winterreise is a mix of complex emotions such as joy, sorrow, misery, and the memory of happiness. It sinks deep into the abyss before rising to the height of euphoria, with the emotion oscillating two opposite extremes. The story behind Die Schone Mullerin is based on charades in the 1820s. In the game, you have to guess a person or a word only through the other person's gestures. In Die Schone Mullerin, the protagonists show off their charade and gestures. The lady of the water mill is far from innocent."
- Schubert wanted to become an opera composer, but he could not write many songs for financial trouble. Would you say that his song collections are an alternative to the operas that he never finished writing? (Noh Seung-rim)
"He may have hidden such intention. But I feel that those songs are dramatic in a way that is different than opera songs. Schubert clearly drew a line between the forms of opera and lied."
- You've written that for Der Leiermann, the last song of Winterreise, you might try singing it like Bob Dylan. May I expect something like that in your Seoul concert?
"I've mentioned the difference of album and actual performance music, and this hinges upon the audience, my feelings, and the mood of the day (laughter)."
The concert will serve as a spring program for the Seoul International Music Festival, whose main performance will be held in fall. The May 10 program will feature Winterreise, with May 12 and May 14 concerts each being themed around Die Schone Mullerin and Schwanengesang. The show starts at 8 p.m., with Julius Drake playing the piano. Ticket prices range from 90,000 to 120,000 won.
gustav@donga.com