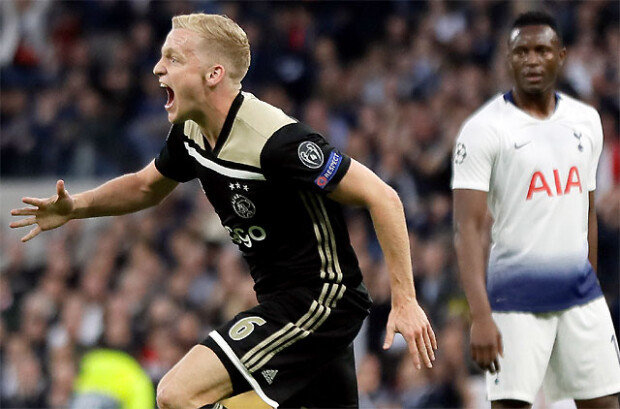 English Premier League's Tottenham Hotspur midfielder Moussa Sissoko did not abandon his hope, although his team lost the first leg of the UEFA Champions League semifinals 1-0 at home on Tuesday night (local time). He said that Tottenham's South Korean striker Son Heung-min, who was suspended from the first leg due to the yellow cards he amassed, will make a dramatic reversal at the second leg to be held in Amsterdam on next Thursday.
Local television cameras relaying the game focused on Son, who was watching the match in the stands, as fans were paying attention to whether Tottenham will fare well despite the vacuum of Son, who scored 20 goals this season. The club fully mobilized its strikers available but failed to win a score out of a total of 12 shoots including one effective shoot. Simple long passes to 193-centimeter-tall Fernando Llorente were not enough to penetrate Ajax's strong defense that toppled Italy's Juventus with "goal machine" Cristiano Ronaldo.
British soccer experts view Son as a key player who could determine Tottenham's fate in the second leg. BBC Sport presenter Dion Dublin projected that Son's ability to infiltrate and strike back will pose tremendous threats to Ajax defenders, as he is excellent in disrupting opponents' defense infiltrating in the middle. Former England defender Rio Ferdinand said Tottenham will be able to reach the final if they can take advantage of Son, who will return in the second leg.
Yun-Cheol Jeong trigger@donga.com