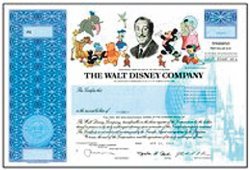 Kids in the U.S. used to get a Mickey Mouse doll for birthday, but now shares of the Walt Disney Company are a preferred gift of choice. CNN reported Thursday that shares of listed companies, which could contribute to the growth of receivers' wealth, have become a popular gift for birthdays, Christmas and anniversaries.
Stock gifting can teach young kids about economic concepts at early ages and help adults to diversify his or her asset portfolio. You could also give a stock certificate as a physical souvenir or give shares purchased on personally meaningful dates, which makes them a perfect surprise gift.
Stock gifts are a wise choice from an economic perspective as well. Stocks go up and down in the short-term, but the S&P 500 is up 17 percent this year, and 239 percent over the past 10 years, according to Refinitiv. In the U.S., a transfer income tax is not imposed when shares are gifted and a receiver does not have to pay any taxes until he or she sells the gifted shares.
According to stock gifting site GiveAShare.com, Disney has been the most popular pick every year since 2002 when the website was first launched. It seems people love giving what they consume, CNN reported.
After accepting a four-year, 140-million-dollar extension deal to remain with the Seattle Seahawks, Russell Wilson gifted 13 of his teammates 12,000 dollars' worth of Amazon stock, totaling 156,000 dollars.
"I wanted to give you something that had a lasting impact… You have invested in my life... this is my investment into yours," said the 30-year-old quarterback in his letter disclosed by tabloid news website TMZ.
"Amazon is looking like a pretty good stock selection. The online retailer's shares are up nearly 27% this year. Over the past ten years, its ascent is almost unreal: a 2000% increase," CNN noted.
Bo-Mi Im bom@donga.com