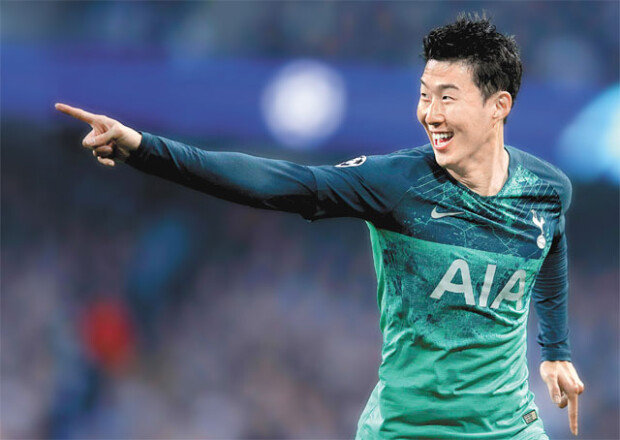 Tottenham Hotspur of the English Premier League, including the Korean sensation Son Heung-min, will play an away match against Manchester City for its EPL's 34th round event in Manchester, the UK at 8:30 p.m. on Saturday (Korea time). The two rival teams are set to have as many as three showdowns during 11 days through Saturday, after starting with the first round match of the UEFA Champions League semifinals on April 10.
Son Heung-min, who led Tottenham's advance to the semifinals by scoring three goals in the UCL's quarterfinals, will counter Man City anew by shifting the stage to the EPL. Son played a pivotal role in Tottenham's offense by posting five offensive points (four goals and one assist) in the latest four matches. "It is about time for both teams to forget the results of the UCL matches and instead focused on the race to elevate their rankings," KBSN TV's soccer commentator Kim Dae-gil said. "Tottenham is expected to deploy its best players including Son as a starting member, rather than fielding its players on rotation."
The match between the rival teams is a big event that could completely change the outcomes of their race to become the winner of the EPL, and determine the teams that will participate in the next season's UCL. Man City, which has played 33 matches thus far, ranked second with a winning score of 83 points after Liverpool (ranking first with 85 points), which has played 34 matches. Each team is set to play a total of 38 matches per season. If Man City loses Saturday's match to Tottenham, the difference in the winning points would widen further, and as a result the former could be eliminated in the race for the championship. For this reason, the frontrunner Liverpool's fans are even cheering for Son in a unique situation, as they anticipate a windfall. Some Liverpool fans made posts on Son's Instagram, reading "Beat Man City just once more!" and "Score a goal in the match against Man City and help Liverpool."
The third-ranked Tottenham (67 points) should maintain its ranking to stably secure a berth to participate in the next UCL championship, which is granted to the top four teams. The fourth-ranked Arsenal (66 points, +26), and the fifth-ranked Chelsea (66 points, +21) are closely chasing after Tottenham. "Man City will fight to win the EPL championship, while we will fight to secure a berth for the UCL," Tottenham coach Mauricio Pochettino said. "We will forget the joy of our victories in the previous matches, and make a fresh start."
Meanwhile, Son will challenge to break the record of most goals scored in a single season by a Korean player in the European professional leagues, which he himself possesses (21 goals), in the match against Man City. Son currently has 20 goals in total that he has scored this season.
Yun-Cheol Jeong trigger@donga.com