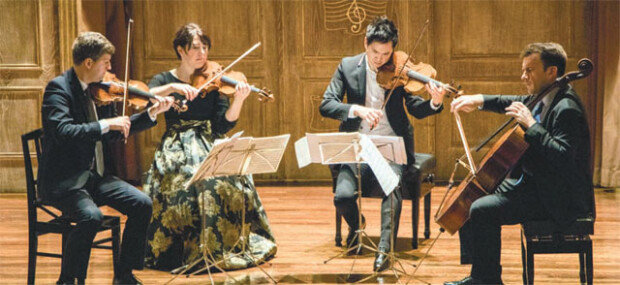 The Ehnes Quartet was established in 2010 under the leadership of Canadian violinist James Ehnes who won the 2008 Gramophone Award in recognition of his album of Edward Elgar's violin concerto and double Grammy awards for Kernis at the 2019 61st Annual Grammy Awards. It has been highly commended that the harmonious music of violinist James Ehnes, violist Richard Yongjae O'Neill, violinist Amy Schwartz Moretti and cellist Edward Arron sounds like the one voice that a group of close friends make in unity.
In celebration of the 15th anniversary of Richard Yongjae O'Neill's debut in Korea, the four musicians perform Mozart: String Quartet No.23 in F major K590, also known as Prussian No. 3, Debussy String Quartet in G minor, Op. 10, the Andante cantabile from Tchaikovsky's String Quartet No. 1, Op. 11, and the like at 8:00 p.m. on April 26 at the concert hall of Seoul Arts Center. Tchaikovsky's String Quartet No. 1 will be also performed on May 15 at the same venue by the Russian Borodin Quartet. Comparing the two performances on the oft-played piece will allow big fans of chamber music to have much fun.
The Ehnes Quartet will stand on the same stage the next day, on April 27, to collaborate with the KBS Symphony Orchestra conducted by Li Xinciao, former leading conductor of Busan Philharmonic Orchestra between 2009 and 2015. They will play German Romantic composer Ludwig Spohr's Concert for Violin, Piano and String Quartet, which is recognized as a rare and special musical piece characterized by the reverberation of chamber music and the appeals of a concerto. The KBS Symphony Orchestra will also play Haydn Symphony No. 96 and a suite of the Knight of the Rose for the audience.
gustav@donga.com