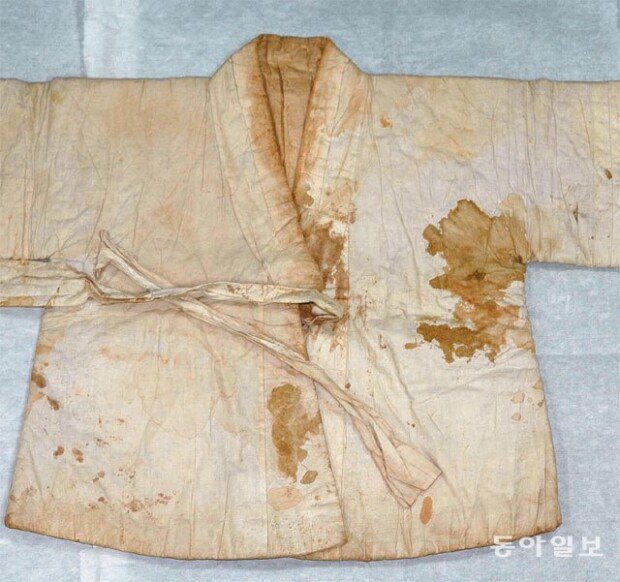 Independent activist Moon Yong-gi (1878-1919), who was killed by the imperial Japan in 1919, was a spiritual leader of the April 4 independence movement in Iksan, North Jeolla Province. His wife Choi Jeong-ja's (1887-1955) foresight played an important role in making Moon a symbol of the Iksan independence movement.
Upon Moon's returning home dead, his mother and nine-year-old daughter passed out and died. A four-year-old daughter died from illness and Moon's widow had to hold four funerals that year.
But Choi did not panic in the bleak situation. She put her husband's bloodstained clothes in a jar and buried them. She thought they would be useful to testify Japan's brutality after Korea's liberation. The Japanese army threatened her to give them the clothes, but she refused.
She even wrapped the clothes with her skirt and hung them on a pillar to prevent the blood from fading. When Korea achieved independence, she laid out the clothes on a straw mat in the yard, held a memorial rite and mourned with her son.
Jeong Gwi-rye, Choi's daughter-in-law, donated the clothes to the Independence Hall of Korea in 1985. The clothes had been displayed at the hall for four years, and now they are kept in a storage for preservation.
The bloodstained clothes, currently on display at the third gallery of the Independence Hall, are replicas. The blood on the collar and sleeves of the coat and a hole made by a Japanese sword vividly show the brutality of Japan even after 100 years.
Seung-Ho Jung shjung@donga.com