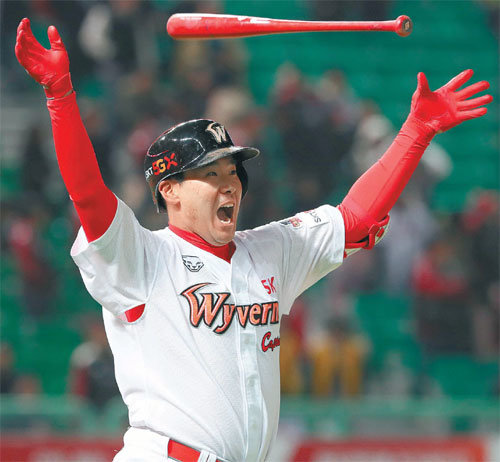 The Korea Baseball Association lowered the restitution coefficient of the official ball ahead of this season to put the brake on the severe imbalance of robust batting and weak pitching in last year's season, when as many as 1,756 homers, a record for a single season, were recorded. The restitution coefficient was thus lowered from 0.4134-0.4374 to 0.4034-0.4234, which theoretically causes a flying ball to fly about three meters less than before.
Even so, batters have shown robust performance in batting. In the game against the Lotte Giants in Busan's Sajik Baseball Stadium on Wednesday, Samsung, with a team batting average of 0.144, a homer and six team runs (ranking 10th overall), secured 23 runs in total by posting eight home runs. The all-time record was made by the then Hyundai Unicorns in 2000.
With two outs and bases full in the top of the eighth inning, Park Han-ie hit his first grand slam on the day, for the first time in 19 years since his KBO debut. It is a grand slam hit by the oldest (40 years and two months) batter in the history of Korean baseball. The previous record of a grand slam hit by the oldest player was set by Choi Dong-soo, then SK Wyverns player, in the game against the LG Twins, which took place at Munhak Baseball Stadium in Incheon on Aug. 4, 2011. He was 39 years, 10 months and 24 days old at the time.
Han Dong-min, the 2018 Korean Series MVP, has hit homers in three consecutive games since the season's opening. Making three consecutive homers is an extraordinary record. Park Kyung-wan, current coach for SK, made the record high of four consecutive homers in the 2004 season opening, followed by three homers of then Hyundai batter Eddie Williams in the 2000 season opening.
These moments reveal that the reduced restitution coefficient has proven to be hardly effective. Players and managers in the field say that they cannot feel the changes in the official ball. "It seems there is no change to (the official ball) from last year," said Lotte manager Yang Sang-moon, hinting that he frequently sees such big hits again this year, following balls flying high to send to the outfield section last year.
Some pundits say that it is premature to judge the outcomes in this transition period. The restitution coefficient has been reduced, but the diameter of the official ball has increased by 1 millimeter, and the stitching on the ball has been lowered, which pitchers feel weaker grip on the ball. Since pitchers have not sufficiently familiarized their hands to the ball just yet, they erroneously throw pitches in the early days of this season, resulting in relative more homers. "Pitchers will give fewer hits to batters than now, given that pitchers will familiarize themselves to the new official ball," said a veteran pitcher.
Bae-Jung Kim wanted@donga.com