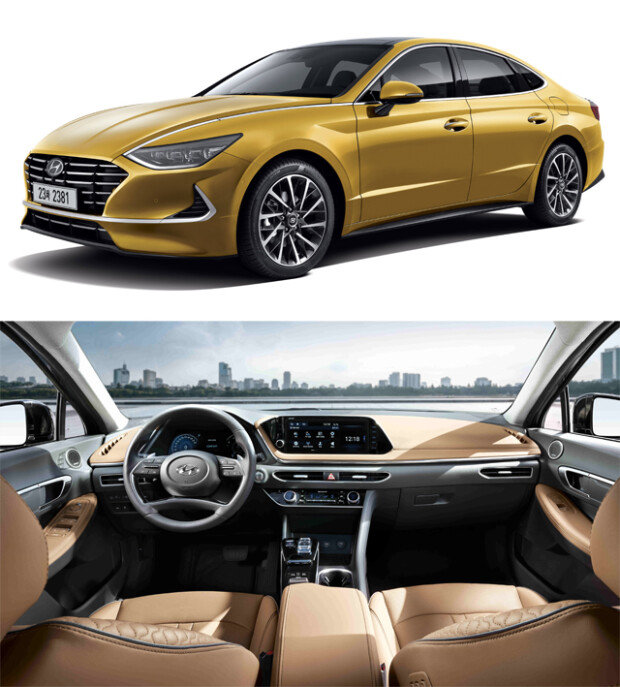 Hyundai Motor has unveiled the new eighth-generation 2020 Hyundai Sonata, its representative sedan model. The new Sonata, which was dubbed "DN8" during its development stage, has been completely revamped from its previous model Sonata LF launched back in 2014. Expectations are high for the new Sonata as it is expected to help the company recover lost sales, which fell under the 70,000 mark last year, and boost overall performance of the company.
Hyundai Motor will begin pre-sales of the new Sonata from next Monday and officially launch the model within this month, according to the automaker Wednesday. The most distinct characteristic of the all new Sonata is that it features the industry's first state-of-the-art technologies.
The introduction of "digital key" allows users to unlock and start the car using their smartphone without the need to carry a smart key. Near Field Communication (NFC)-based digital key enables users to lock and unlock the car by simply putting their smartphone to the car. Users can put their smartphone on the wireless charger inside the car and push the button to start the vehicle. Four users including the driver can share the smart key. The new model will save users' preferences and automatically adjust the position of the driver's seat, exterior mirrors, and air conditioner according to individual user's characteristics, such as their height and weight.
The new model is also equipped with a built-in vehicle black box dubbed "DVRS" for the first time as a Hyundai car. Other technologies and devices for driver safety and convenience include remote smart parking assist (RSPA), over the air update (OTA), rear occupant alert (ROA), collision-avoidance assist (FCA), lane following assist (LFA), and lane keeping assist system (LKAS). These devices will be installed in all Hyundai models as a default option.
The new Sonata is Hyundai's first model to embody "Sensuous Sportiness," the company's next-generation design concept. The design first introduced through its concept car Le Fil Rouge at the 2018 Geneva Motor Show reflects Hyundai's design philosophy of delivering sharp image and emotion in its models. Several images of the new Sonata show that the new model maintains the look of a family sedan and at the same time has a sophisticated sports car-like feel to it.
The Sonata has been representing Hyundai's sedan lineup, selling over 8.6 million units around the world since 1985. The model was very popular in Korea, selling more than 100,000 units every year but the number fell to 60,000 last year. "It is true that the sales of the Sonata have reduced in recent years due to the popularity of sports utility vehicles (SUV). But we believe the new Sonata will contribute to restoring our lost confidence with its cutting edge features," a Hyundai official said.
Do-Hyong Kim dodo@donga.com