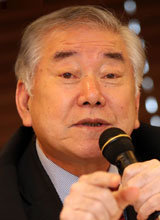 Moon Chung-in, special advisor to South Korean President Moon Jae-in for unification, foreign affairs and national security, said Tuesday (local time) that if North Korea agrees to permanently dismantle its Yongbyon nuclear complex, it would deserve partial lifting of sanctions that would allow the resumption of the inter-Korean industrial complex in Kaesong or Mount Kumgang tours.
He told South Korean correspondents at the Korea Economic Institute in Washington that the United States would find it difficult to "give a big present" to the North if Pyongyang fails to move toward verifiable dismantlement of the Yongbyon complex. He suggested that a freeze or suspension of nuclear material production would not get North Korea what it wants – a peace declaration, opening of a U.S. liaison office in Pyongyang and eased sanctions.
The presidential advisor noted that Washington may well give partial sanctions relief if Pyongyang permanently dismantles the Yongbyon complex because it is the first step towards an irreversible denuclearization) phase. "South Korea may well resume the Kaesong Industrial Complex and the Mount Kumgang tours." However, this requires the United Nations Security Council (UNSC) resolution on easing the sanctions or the UNSC Committee on North Korea's exception regulation.
"If the first U.S.-North Korea summit drew a general outline (for denuclearization), the second summit will likely go into details," he said, projecting "generally good outcomes."
Stressing the need for a denuclearization roadmap, the advisor said that making a roadmap for negotiations will be much more "realistic" than making a roadmap for denuclearization itself. Asked about the possibility of the U.S. and North Korean leaders agreeing on an end-of-war declaration, Moon said that such a declaration would be a "foreword" to a peace treaty, which is also a declaration. "It would make political sense for the leaders of South Korea, North Korea, the U.S. and China to meet and make the declaration," he said. He expected that the text of a U.S.-North Korea summit declaration will not take shape until Thursday morning because the two leaders have to make up their minds.
Yong Park parky@donga.com