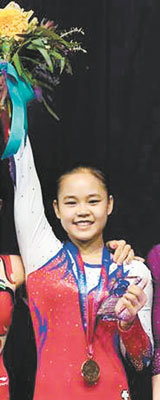 Korea's artistic gymnast Yeo Seo-jeong won the first medal in an international competition this year.
The 16-year-old gymnast ranked first with an average score of 14.266 in the first and second women's vault apparatus final at the FIG World Cup Gymnastics in Melbourne, Australia on Saturday. According to the Korea Gymnastics Association, it is the first time that a Korean female gymnast won a gold medal in a world cup series.
Yeo scored top at preliminary rounds with an average score of 14.400 and went to finals. She tried a 5.8 point technique in the first round and a 5.4 technique in the second, and scored 8.666 in both techniques. Yeo outscored Uzbekistan's veteran gymnast Oksana Chusovitina, whose average score at 14.200, by 0.066.
It was a good start of the season for Yeo who won in the main event even though she withdrew from the balance and floor exercise preliminaries due to pain in her ankle the previous day.
She, who is the daughter of legendary gymnast Yeo Hong-cheol, is aiming for a medal in the Tokyo Olympics next year. She plans to perfect difficult techniques by entering various international events during this season.
"Yeo Seo-jeong is developing her own technique (vaulting and turning 720 degrees) which is expected to give her a score of 5.8 or 6.0 if landed without a mistake," said an insider of the Korea Gymnastics Association. "With this technique, she will be a strong Olympics medal candidate."
Yun-Cheol Jeong trigger@donga.com