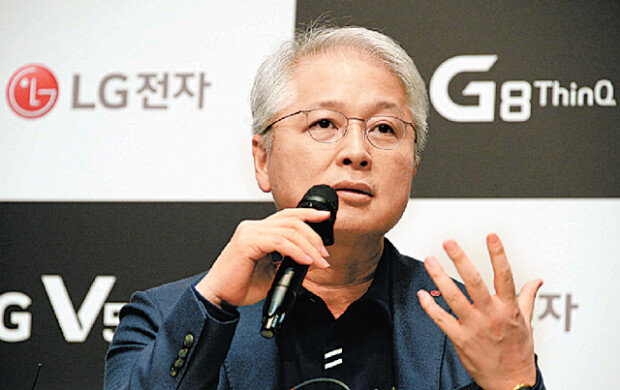 LG Electronics has announced that it will make all-out efforts to regain its shrinking market share in the upcoming 5G-enabled smartphone market. Kwon Bong-suk, head of LG's home entertainment (HE) unit, has served a dual role in the mobile communications (MC) division since last December.
"We regret that our smartphones lacked an identity and a selling point from the perspective of customers," Kwon said during his first press conference Friday at the LG Science Park in Seoul. Late last year, LG's smartphone division has seen plummeting profits, running a deficit for 15 consecutive quarters, while recording a deficit of 789 billion won in 2018.
The tech giant will unveil the company's first 5G-enabled smartphone "V50 ThinQ" and its strategic premium smartphone "G8 ThinQ" in Barcelona on Feb. 24 (local time), aiming to shore up its presence in the global market. The company will commercialize 5G services in South Korea and the U.S. in the second quarter. The firm used to launch the G-series smartphones in the first half of each year and the V-series in the second half, but it will break from its usual launch schedule by showcasing the two smartphones at the same time.
Kwon stressed that the company has worked together with the U.S.' and South Korea's mobile carriers to prepare for the era of 5G networks. "Our focus has been on producing the most stable and complete smartphones in terms of speed, heat dissipation, and battery," Kwon said. "We will concentrate on selling 5G smartphones in the world's major markets including South Korea and the U.S. starting from late March or early April."
Seok-Jun Bae eulius@donga.com