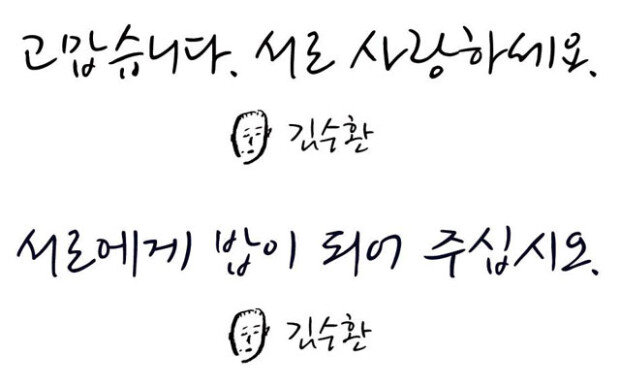 "Thank you. Love each other. Be the rice for each other." The Catholic Publishing Company revealed the handwriting of Cardinal Kim Sou-hwan on Thursday. This handwriting was completed based on his handwritten manuscript to commemorate the 10th anniversary of his passing away, which falls on Saturday. The late Cardinal's handwriting is the phrases that he used to emphasize to people. The portrait of a fool the late Cardinal drew frequently and the name are also seen.
"A handwriting is a bowl that incorporates person's life and mind," said the Catholic Publishing Company with respect to developing the handwriting. "We hope the handwriting of Cardinal Kim Sou-hwan to become a means that can allow us to feel the Cardinal, even though he is no longer with us, and to meditate upon his life and mind."
The publishing company said that this handwriting should not be used without the copyright holder's permission, while adding that a consulting with the publisher is kindly asked for public purpose without fail.
A dedication ceremony for the handwriting of Cardinal Kim Sou-hwan is to be held at the Maria Hall of the Catholic Publishing Company, located in central Seoul at 2:00 p.m. next Friday.
Gab-Sik Kim dunanworld@donga.com