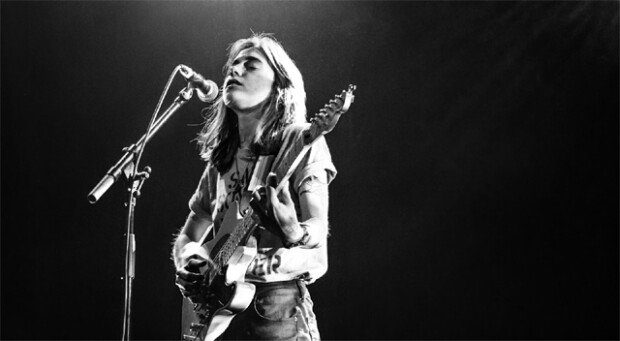 Julien Baker plays music that conjures up the image of a cathedral of sheer mirth built with blood-red bricks of pains. Her visceral voice, redolent of the protagonist from the movie "Once," defies the mundanity of a conventional band consisting of drums, guitars, and a bass.
The 24-year-old American singer and songwriter is a purist who touches your heart only with her voice and her electric guitar. Baker's debut in 2015 made a splash in the music scene, with her critically acclaimed works likened to those by Elliott Smith and Bon Iver. The Dong-A Ilbo had a written interview with Julien Baker, who is visiting Seoul for her first concert in South Korea, slated for next Tuesday at "Rolling Hall" in Hongdae, downtown Seoul.
Baker is a Christian and a sexual minority. She used to be a drug addict. Her chaotic self-identity has created statics in her world like the strident guitar noise of punk music. The outgrowth is a musical cocktail that tastes like destruction.
"I just wanted to go to sleep. When I turn out the lights. There is no one else between myself and me," she said through her song "Turn Out the Lights."
"I've realized how valuable it is to admit to getting weaker and damaged," said Baker, a singer who falters and shouts, and confesses with a voice of a little girl. "Don't be ashamed of yourself for asking for help from others to get you out of the darkness."
The American songwriter, who moves the heart of both critics and audience with her poignant, precise performance, said she always struggles with stage fright, adding, "I practice like a crazy person as preparation."
For her, standing on the stage is like getting his wounds healed. Baker said she hopes his show will have the same effect on her fans. "I am really happy when they sing along my songs. Even if it is a dark song, it becomes something of a symbol and connects millions of people," she said. "The feeling that you are not alone. That is priceless."
imi@donga.com