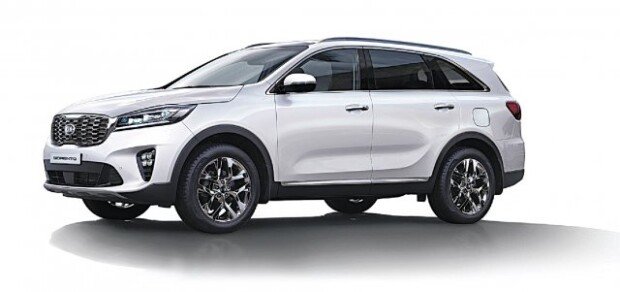 A series of new sport utility vehicles (SUV) in various sizes will be launched this year, including South Korea's No. 1 automaker Hyundai Motor's new model Palisade which was released last month.
In the compact SUV market, Kia Motors launched its all-new Soul Booster last week. The new Soul is the third-generation model, with the first and second ones unveiled in 2008 and 2013, respectively. The carmaker has said that the car comes with up to 204 horsepower, brand-new high-tech design, as well as multimedia systems.
Targeting young buyers, the Soul Booster boasts advanced in-car entertainment functions. In collaboration with SoundHound, the company introduced an in-car service through which users can easily look for music they are listening to on the radio simply by pressing a button. In addition, a variety of IT specifications were applied to the model including the voice recognition server of Kakao's AI platform "Kakao I." The South Korean automaker has also released the 2020 Kia Sorento recently. The upgraded version is equipped with enhanced safety features, new state-of-the-art technology, and advanced trim specifications, according to Kia.
Smart advanced driver assistance systems (ADAS) were packed into the trim of the diesel model, including the Forward Collision-Avoidance Assist (FCA), Forward Collision Warning (FCW), Lane Keeping Assist (LKA), Lane Departure Warning (LDW), Driver Attention Warning (DAW), and High Bean Assist (HBA).
SsangYong Motor will also launch its brand-new Korando in March. The company recently confirmed the name of a new vehicle developed through an internal project "C300" as Korando. This is the first time in eight years that the carmaker showcases an upgraded model since it rolled out the Korando C in 2011. The unveiled teaser images of the car show the new-generation Korando's brand-new look, and the midsize SUV is known to have strengthened safety features and a new power-train.
Meanwhile, Citroen has recently unveiled the New C4 Cactus equipped with the latest generation EAT6 fully automatic gearbox, the BlueHDi diesel engine that can produce 120 horsepower, as well as 12 driving assistance systems to make driving easier and safer. Feel trim model is priced at 29.8 million won, and Shine comes with a price tag of around 32.9 million won.
Hyoun-Soo Kim kimhs@donga.com