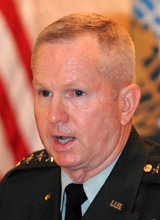 Gen. Burwell Bell, former commander of the United States Forces in South Korea, stressed that the South Korea-U.S. alliance (including the Mutual Defense Treaty between the Republic of Korea and the United States of America) should be firmly maintained regardless of how the two countries' ongoing negotiation over defense cost sharing ends, in an exclusive written interview with The Dong-A Ilbo on Sunday.
Having served as commander of the U.S. Forces Korea from 2006 to 2008 throughout South Korea's Roh Moo-hyun and Lee Myung-bak administrations, Gen. Bell said that peace and security of Northeast Asia is not only South Korea's interest but also key national interest for the United States. His remark was an apparent snark at speculations that the Donald Trump administration will hint at a possible reduction of the U.S. Forces Korea to push Seoul to pay more and also to use it as a bargaining chip ahead of a second U.S.-North Korea summit.
Saying that the two countries' alliance is so essential for the stability of Northeast Asia that it transcends all political, economic, and diplomatic frictions, Gen. Bell expressed concern over the current situation where Seoul and Washington are having a clash over defense cost sharing within the frame of "one billion dollars versus one trillion won." When it comes to the two allies' share in footing the bill, Gen. Bell said he still maintains his earlier position that Seoul and Washington should cover half of the entire non-personnel stationing cost (NPSC) each.
Gi-Jae Han record@donga.com