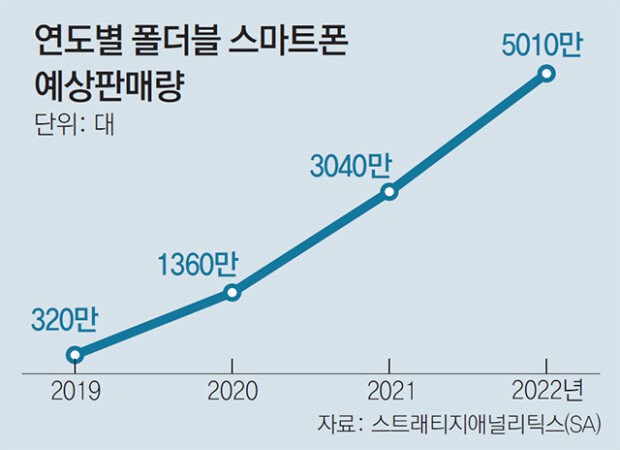 LG Electronics will unveil its "dual-display foldable" phone at next month's Mobile World Congress (MWC). Unlike Samsung's foldable phone, which will be displayed at the Galaxy Unpacked event in San Francisco in February, LG's folding phone has two displays instead of one. Amidst declining global smartphone shipments in the first half of this year, the competition for higher value-added foldable phones is getting fiercer.
According to industry sources on Wednesday, LG Electronics will introduce its dual-display foldable phone along with its flagship G8 ThinQ at the 2019 MWC, which will take place in Barcelona from Feb. 22. LG's first foldable phone is similar to that of Samsung in that it has a 3-inch display that folds open into a 7-inch display. The difference is LG's phone has two displays that are joined together by a hinge.
Other companies such as Sony of Japan and ZTE of China already released dual-screen foldable phones, but the thick hinge connecting the two displays failed to make it look like one display when unfolded. "LG has made an exquisite job making the gap in-between the two displays look almost seamless for users," an industry source said.
The biggest reason behind LG's design choice is price. Unlike Samsung's foldable phone, which is expected to be over 2 million won, LG's dual-display foldable phone will be around 1 million won, similar to the company's flagship smartphones. "As LG is lagging behind at the smartphone market share, it is seeking an edge with price competitiveness," an industry source said.
In addition, the tech company will introduce a new user interface called "touchless input." It allows users to touch or swipe the display without actually touching the screen. The sensor on the front recognizes user's hand gestures from 20-30 centimeters away from the display. Users will be able to conveniently operate their smartphone in any posture. LG is planning to apply the interface to its existing lineup, such as G and V series, as well as its foldable phones.
Tae-Ho Hwang taeho@donga.com