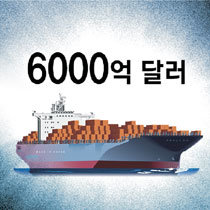 In February 1948, Hwashin Trading Company set sailing of the freighter Aengdo, a chartered freighter from Joseon Shipping Company, in Busan. Aengdo was the first merchant vessel to sail overseas under the Korean flag. The vessel was loaded with agars and dried squids. According to documents, the sailors of Aengdo sold these marine products in Hong Kong and Macau.
Korea's exports amounted to 19 million dollars in 1948. Our export destinations were limited to China and Japan. Most of the exported goods were agricultural and marine products, such as dried fish, eggs, apples, and pears, and minerals including zincs, graphite, and iron ores. After Dongkwang Textile Company first exported 300 sweaters to the U.S. in 1959, industrial products, including clothes and shoes started to slowly replace agricultural and marine products and minerals. After the 1970s, export of industrial products rapidly increased.
This year's exports exceeded 600 billion dollars as of 11:12 a.m. Friday, according to the Ministry of Trade, Industry, and Energy and the Korea Customs Service. This is an all-time high export amount, three times that of 70 years ago. This is a remarkable feat achieved in seven years since the export volume surpassed the 500-billion-dollar mark in 2011. Korea has become the seventh country in the world to surpass 600 billion dollars in annual exports.
Although it is good news, a high dependence on semiconductors is something to be worried about. Semiconductor took up only 11 percent of the entire export in 2014 but the number has increased to 21 percent this year. This is largely in part due to the semiconductor super-cycle. But experts warn that this semiconductor boom could come to an end due to oversupply next year. We are also seeing a drop in memory prices. It is high time we find a new export product that will replace semiconductors down the road just like clothes and shoes replaced dried squids in the 1980s and semiconductors replaced textiles after the 2000s.