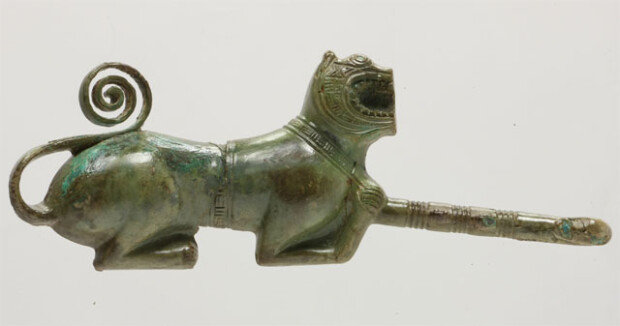 A tiger-shaped belt hook, which is estimated to have been crafted about 2,000 years ago during the Iron Age, will be designated as a national treasure of Korea.
The Cultural Heritage Administration said Wednesday that it will designate as treasures a bronze tiger-shaped belt hook excavated from a wooden chamber tomb No. 1 in Sindae-ri site in Gyeongsan, North Gyeongsang Province and the Dharani Sutra of Buddha's Mercy, a Buddhist scripture from the early Joseon Dynasty.
The tiger-shaped belt hook is an ornament attached to costumes or sword hilts. It was excavated in 2007 by historians at the Yeongnam Institute of Cultural Properties and is now kept at the Daegu National Museum. Its historical value has been recognized as it remains in good shape.
The Dharani Sutra of Buddha's Mercy, which is in the collection at Myodeoksa Temple in Jangheung, South Jeolla Province, is said to dispel misfortune with the mystical power of Bodhisattva, or the Buddhist Goddess of Mercy, for those who carries or reads it. Created in 1425, the scripture is in the form of a booklet consisting of three volumes small enough to be carried in the wide sleeve of a traditional Korean costume.
Won-Mo Yu onemore@donga.com