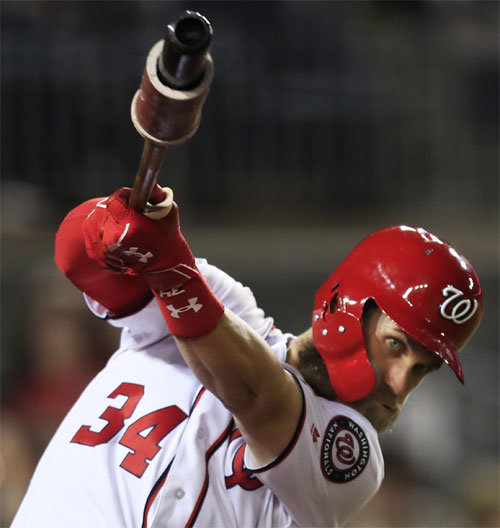 It seems like Washington Nationals superstar outfielder Bryce Harper wants to play for the Dodgers. Major League Baseball's Instagram account on Monday posted a photo that said, "Are the Dodgers the favorites for Bryce?" and Bryce Harper liked the post. On the same day, Yahoo Sports reported that Bryce Harper made it clear that he wants to play for the Dodgers.
The Dodgers traded Yasiel Puig and Matt Kemp to the Cincinnati Reds on Saturday, leaving more space on their payroll for Harper. A sport batting website Oddsshark on Sunday gave the Dodgers the lowest dividend rate, meaning that they are most likely to sign the superstar free agent.
Bryce Harper rejected a 10-year, 300 million dollar contract from the Washington Nationals last month, going after a mega-deal. Giancarlo Stanton of the Miami Marlins is so far the only player to sign a deal worth over 300 million dollars (325 million dollars in 2013) in the history of Major League Baseball. Scott Boras, Harper's agent, is aiming to sign a contract worth over 400 million dollars for the first time in the history of MLB.
There has not been a deal worth over 100 million dollars in the Dodgers since Andrew Friedman was named the president of the team in 2014. The biggest contract the Dodgers signed recently was Clayton Kershaw's 3-year, 93 million dollar contract.
According to some analyses, the Dodgers could be hesitant to sign the left-handed superstar since there already are so many left-handers in the Dodgers. The USA TODAY reported on Monday that the Dodgers are not ruling out the possibility of signing Harper but they are looking for a catcher and a second baseman in the trade market since they already have many left-handers.
yesbro@donga.com