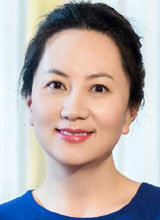 A risk arose in just four days after presidents of the U.S. and China declared trade war ceasefire. The Globe and Mail, a Canadian Daily, reported on Wednesday that Canadian authorities have arrested Huawei's vice president and CFO Sabrina Meng Wanzhou. She is a leading contender to succeed her father, Ren Zhengfei, who founded the leading Chinese telecommunications device and smartphone manufacturer.
Hong Kong's South China Morning Post and other media reported that the Canadian authorities arrested Meng Wanzhou who was in Vancouver while transferring flights. The U.S. government has requested extradition of Wanzhou. A bond hearing will be held on Friday.
The Canadian authorities have reportedly arrested Meng Wanzhou on alleged violations of U.S. sanctions against Iran. In April this year, U.S. media have reported that Washington investigating allegations of Huawei selling products to Iran and other countries in which the U.S. has imposed economic sanctions on.
China immediately lodged an official protest to the U.S. and Canada via diplomatic channels and called for release. Some view Meng Wanzhou's arrest as muscle flexing of the U.S., which has strongly pressured China to open and reform its market since the 90-day trade tariff ceasefire between the two countries.
Wan-Jun Yun zeitung@donga.com · Yong Park parky@donga.com