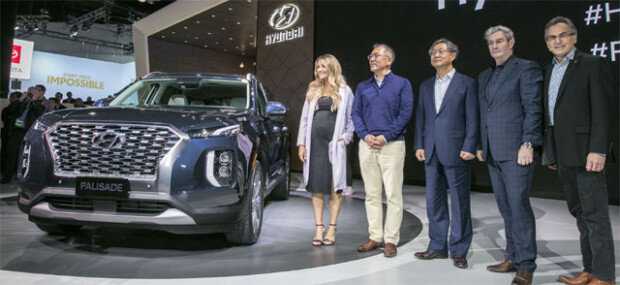 Hyundai Motor Co. has unveiled its ambitious flagship sport-utility vehicle (SUV) Palisade in the United States.
The South Korean automaker unveiled the vehicle at the 2018 Los Angeles Auto Show held at the Los Angeles Convention Center on Wednesday (local time). The eight-seater SUV is critically acclaimed for showing Hyundai's efforts to enhance its presence in the SUV market by upgrading the chassis, interior and exterior designs and driving convenience systems. Hyundai Motor Group Chief Vice Chairman Chung Eui-sun was present at the auto show, showing off his affection toward the new model.
The unveiling event was unique, catching the eyes with a video showing K-pop band BTS, one of the most popular pop stars in the world, enjoying a comfortable ride in the Palisade. The vehicle is named after Pacific Palisades, an affluent and scenic neighborhood in Southern California.
The three-row SUV has been developed to be used as a family space while respecting individual spaces. Lee Sang-yup, head of Hyundai's Design Centre, said that the Palisade shows Hyundai's new design direction, as it is the company's first SUV featuring the "sensuous sportiness" design. "The imposing exterior design and the interior design that takes all customer conveniences and sensitivity into consideration will provide families with peace and coziness," he said.
The front expresses a strong and bold image with a large cascade grille inspired by molten metal falling from a furnace. The SUV is also the first in the world to feature a roof air vent, which evenly circulates the interior air from the front row to the rear.
The Palisade comes in two types: one with a 2.2-liter diesel-powered engine and the other with a 3.8-liter gasoline engine. In Korea, where the SUV will be released in December, Hyundai will take advance orders from Thursday. The price tags range from 36.2 million won (32,300 U.S. dollars) to 42.3 million won (37,700 dollars) for the diesel models and 34.8 million won (31,000 dollars) to 41 million won (36,600 dollars). Hyundai plans to launch the vehicle in the U.S. market in the summer of 2019.
Hyoun-Soo Kim kimhs@donga.com