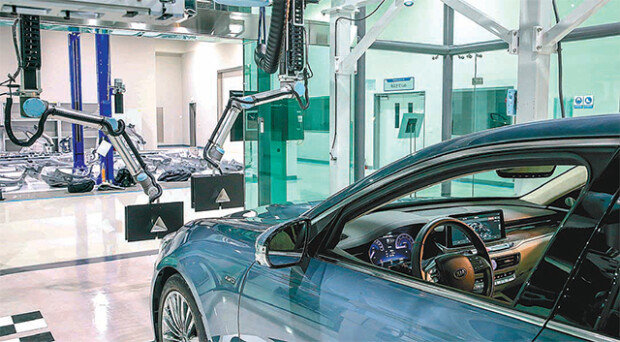 The world's first intensive inspection system of auto electronic devices, in which a robot automatically performs a quality test on auto electronic devices, is invented, Hyundai Motor and affiliate Kia Motors announced on Wednesday.
The automatic system that was unveiled by the automobile manufacturer uses six robots to inspect a total of six safety related systems, including five different kinds of advanced driver assistance systems (ADAS). The invention is the outcome of three years of research since 2015 in response to growing consumer preference for ADAS equipped cars.
Until recently, most carmakers have separated ADAS quality inspections per function, which made it difficult to test overall function quality and lacked production efficiency. The collaborative robot made by Hyundai and Kia is able to check six different functions in a single process, including the five ADAS functions, which include the Forward Collision-Avoidance Assist (FCA), Lane Keep Assist (LKA), Blind-Spot Collision Avoidance Assistance (BCA), Smart Cruise Control (SCC) and Surround View Monitor (SVM) in addition to the Head-up Display (HUD), in just 85 seconds.
The two Korean automakers are planning to apply the system in Hyundai plants in Ulsan of Korea, Alabama in the U.S. as well as Kia plants in Sohari of Korea and Georgia, the U.S.
Hyoun-Soo Kim kimhs@donga.com