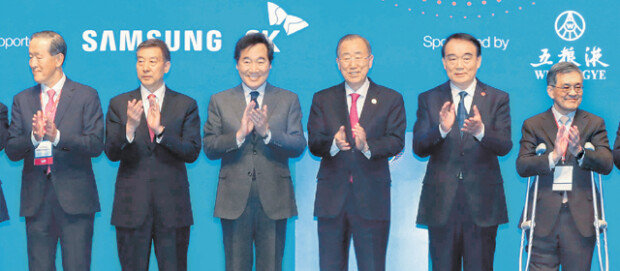 In the wake of the Boao Forum for Asia Seoul Conference held on Tuesday, visiting Chinese State Councilor Wang Yong met with Korean business leaders including Hyundai Motor Group Vice Chairman Chung Eui-sun, SK Group Chairman Chey Tae-won and Samsung Electronics CEO Kwon Oh-hyun. Wang Yong is the 7th highest among the nine Chinese state councilors including Vice Premier Li Keqiang in the Chinese government.
Hyundai Motor Group Vice Chairman Chung and Samsung CEO Kwon met with the senior Chinese official for 30 minutes, respectively, behind closed doors at a VIP room at the Shilla Hotel in downtown Seoul before the Boao Forum for Asia Seoul Conference was opened. "I expressed Hyundai Motor Group's determination to play an active role in the Chinese market," Chung told reporters after the meeting. "I'm looking forward to meeting him again soon."
SK Group Chairman Chey, who served as standing director of the forum, had a breakfast meeting with Wang and former U.N. Secretary-General and chairman of the forum Ban Ki-moon. Given that SK Group has pushed forward with "China Insider" to localize business management, analysts assessed that Chey must have had in-depth discussions on the expansion of business in the Chinese market.
The Boao Forum for Asia, also known as an Asian version of the World Economic Forum (WEF) in Davos, opens in various locations around the world for a regional meeting, separate from an annual gathering held in Boao, China in every April. Seoul is the first North East Asian city to host a regional meeting for the forum.
Forum Chairman Ban emphasized that Asia is faced with a collection of challenges including anti-globalization, protectionism and isolationism, which represent the crisis of global uncertainties, calling upon Asian nations to cooperate closely to stick to multilateralism values.
Tae-Ho Hwang taeho@donga.com