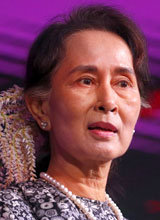 Amnesty International announced Tuesday that it revoke the title of Ambassador of Conscience awarded to Myanmar's leader Aung San Suu Kyi in 2009. Suu Kyi has come under fire that she neglected an ethnic cleansing carried out by the Myanmar military on the Rohingya, one of the nation's minor tribes.
Amnesty International awards the world's most honored title of Ambassador of Conscience to a person or an organization that contributes to human rights improvement in defiance of injustice.
Amnesty International's Secretary General Kumi Naidoo sent a letter dated Nov. 11 to Suu Kyi that it is a great source of disappointment that she was not the symbol of hope, courage and human rights any longer. The international organization decided in deep despair to revoke her award of the title of Ambassador of Conscience as it concluded that she is not qualified to maintain the honor attached to the title.
The epitome of democratization in the 20th century became in effect the leader of Myanmar in April 2016. Recently, however, she has been criticized for her effective negligence of the mass killings of the Rohingya by Myanmar's military and other armed groups. This has led to the revocation or deprival of the title of "honor." The Scottish capital of Edinburgh and the Canadian government revoked her honorary citizenship in August and October, respectively.
yes@donga.com