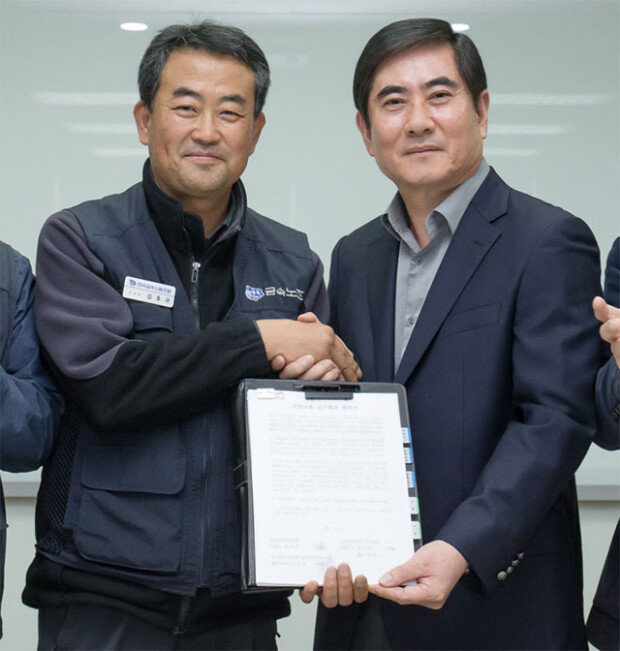 Samsung Electronics Service, a warranty service arm of Samsung Electronics, has announced that it will directly hire 8,700 workers from its subcontractors.
Samsung Electronics Service said Friday that a total of 8,700 workers including 7,800 repair experts and 900 operators at call centers will become regular workers. Those who will be directly hired are regular employees of subcontractors and fixed-term workers who have worked for more than two consecutive years. Samsung Electronics holds a 99.33 percent share of Samsung Electronics Service.
The announcement came around 200 days after the service arm and the Korean Metal Workers' Union signed an "agreement to directly hire workers of subcontractors" on April 17. Since then, the firm and the union had 37 rounds of working-level meetings to discuss key issues such as the scope of hiring and the wage system. The agreement was reached by 93 partners, 95 percent of a total of 98 subcontractors.
With the agreement, some 7,800 repair experts who used to be workers of subcontractors, will start their work as Samsung employees on Jan. 1, 2019. Samsung Electronics Service decided to stop subcontracting repair works to its partners, and will directly hire its workers. Meanwhile, operators at call centers will become regular workers of Samsung Electronics Services CS Inc., in which Samsung Electronics Service holds a 100 percent share, on Nov. 5. "We decided to establish a separate arm considering the nature of work and workforce," said the company. "Given that more than 70 percent of the call centers workers are women, we have strengthened social protection for female employees, including maternity protection and childcare programs."
Observers say that Samsung Group seems to be making active efforts to address issues that have caused controversies in society. On Thursday, Samsung Electronics finally settled the 11-year-long dispute with its former workers who suffered from work-related leukemia. Also, other Samsung affiliates directly hired some 400 drivers on an open-ended contract on the same day. The drivers previously worked on a two-year fixed-term contract. "By being directly hired, employees will be granted greater benefits and salary compared to the past when they worked at subcontractors," said the company. "We will try to build a future-oriented relationship between labor and management, and also work hard to provide the best quality warranty service to customers."
Jae-Hee Kim jetti@donga.com