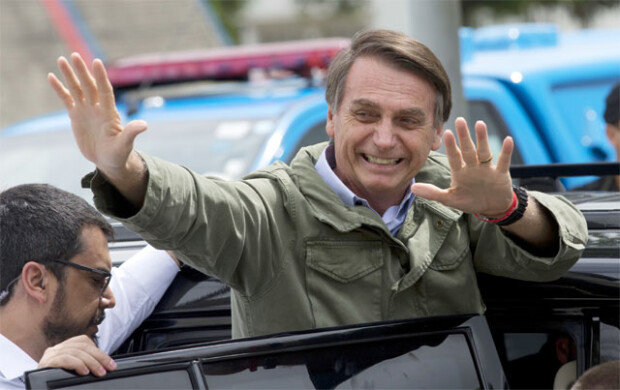 Jair Bolsonaro, a 63-year-old Brazilian politician from the Social Liberal Party dubbed the "Brazilian Donald Trump," has won the presidential election with his inauguration slated on January 1, 2019.
Bolsonaro, a far-right candidate from the Social Liberty Party, won 55.1 percent of the final vote on Sunday, overwhelming his rival Fernando Haddad of the Workers' Party, who earned 44.9 percent of votes. According to the British daily Guardian, in a televised victory speech, Bolsonaro said, "We are going to change the destiny of Brazil." He also added that he will rule for Brazil's citizens "regardless of their faith or skin color," in an apparent response to the public criticism against his discriminatory remarks on race and gender.
On Sunday, U.S. President Donald Trump congratulated him on his election victory with a phone call. The White House issued a statement that "both expressed a strong commitment to work side-by-side to improve the lives of the people of the United States and Brazil."
Promising privatization of state-run corporations and tax cuts as his campaign pledges, Bolsonaro's presidency appears to be welcome news for the private sector. The Brazilian Real has appreciated 10 percent against the dollar overnight. The Bovespa Index also has surged 13.5 percent since mid-September, the Reuters reported.
Ga-In Koo comedy9@donga.com