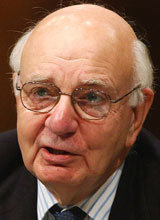 "How can you run a democracy when nobody believes in the leadership of the country?," said Paul Volcker, 91, a former Federal Reserve Chairman, who made his name as an inflation fighter in the late 1970s and early 1980s in an interview with The New York Times on Tuesday. "We're in a hell of a mess in every direction," he lamented.
Mr. Volcker led the Federal Reserve from 1979 to 1987 during the Jimmy Carter administration and Ronald Reagan administration. He allowed the federal funds rate to reach 20 percent to end rising inflation caused by oil shock. Volcker is a leading figure in economic circles who is famous for "The Volcker Rule," which bans banks from trading on their own account.
"Respect for government, respect for the Supreme Court, respect for the president, it's all gone," he said. "Even respect for the Federal Reserve. And it's really bad," Volcker expressed concern. "The central issue is we're developing into a plutocracy," he criticized adding that Washington is overrun by lobbyists and think tanks.
The former Federal Reserve chairman is set to publish a memoir at the end of the month. "I had no intention of writing a book, but there was something that kind of was irritating me," he said. "I'm really worried about this governance thing."
In the memoir, he wrote about his meeting with President Reagan and his chief of staff, James Baker, in the president's study next to the Oval Office in 1984 where he was forced not to raise interest rates. "Reagan didn't say a word. Instead Baker delivered a message: "The President is ordering you not to raise interest rates before the election," wrote Volcker.
Yong Park parky@donga.com