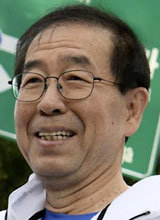 "We will make full preparations to ensure safety on the road so that citizens can enjoy running in a beautiful autumn day," said Seoul Metropolitan Police Agency Commissioner Lee Ju-min.
Commissioner Lee said Thursday that this year marks the 16th anniversary of the Seoul Race, which will be joined by around 10,000 runners racing across the urban area. He promised to minimize citizens' inconveniences and facilitate the running event by dispatching more than 480 staffers consisting of 320 traffic police officers and 160 exemplary drivers all the way on the route. "We will help participants record satisfying results by utilizing our experiences in various events including the previous races in Seoul," he said.
The Seoul Metropolitan Police Agency plans to flexibly control traffic in the city to enable smooth traffic flow on Sunday. From Sejongdaero, where the race begins, to Mugyoro, where it ends, roads are to be controlled consecutively between 6 a.m. and 10:30 a.m.
neo@donga.com