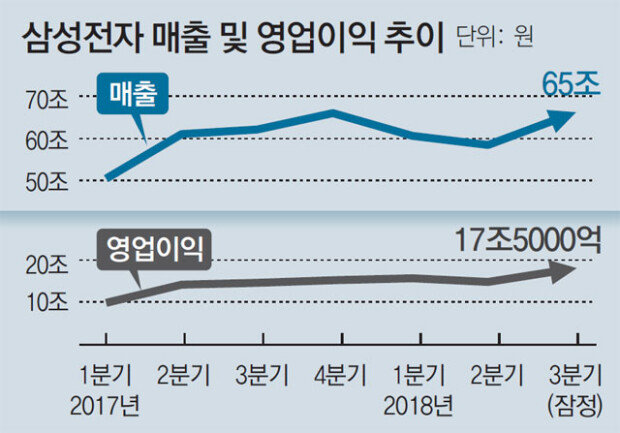 Samsung Electronics saw its operating profit top the 17 trillion won (15 billion U.S. dollars) mark in the third quarter of this year to hit an all-time high. The electronics giant has posted 48 trillion won (42.4 billion dollars) in cumulative operating profit through the third quarter, and thus is expected to surpass 60 trillion won (53 billion dollar) in annual operating profit for the first time ever this year.
In a regulatory filing on its preliminary earnings for the third quarter on Friday, Samsung Electronics said it posted 17.5 trillion won (15.4 billion dollars) in operating profit on 65 trillion won (57.5 billion dollars) in sales. Its sales and operating profit grew by 11.15 percent and 17.69 percent quarter-on-quarter, and 4.75 percent and 20.44 percent year-on-year, respectively. As for operating profit, the company earned 17.5 trillion won, a 1.86 trillion won increase from the company's quarterly record in the first quarter of the year. The operating profit to sales ratio came to 26.9 percent, an all-time high.
Samsung Electronics displayed an "earnings surprise" by surpassing the average market expectation (17.1669 trillion won, or 15.18 billion dollars) mainly thanks to the chip business. Watchers in the electronics industry speculate that Samsung may have earned about 13.5 trillion won (11.9 billion dollars) in the semiconductor business. Despite the continuous price drop of NAND flash, the company managed to post record earnings due to increased shipment of DRAM and NAND flash chips.
The display business also performed well. The display business, which saw the operating profit plunge to 140 billion won (124 million dollars) due to a drop in LCD prices in this year's second quarter, will likely have recovered the 1 trillion won (885 million dollars) level in operating profit in the third quarter. The outcome stems from soaring operating profit in the small panel category due to increased shipment of flexible active-matrix AMOLED displays that are used in Apple's iPhones.
However, the company has an uncertain outlook for the fourth quarter. "Chances are high that Samsung's operating profit in the semiconductor business will stop growing in the fourth quarter due to a drop in NAND flash and DRAM prices," said Song Myeong-seop, a senior researcher at Hi Investment & Securities.
Jae-Hee Kim jetti@donga.com